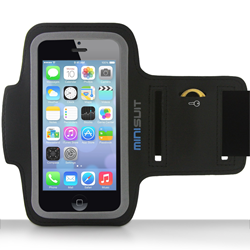 'Minisuit SPORTY Armband + Key Holder for iPhone 5/5S/5C, iPod Touch 5 (Black)' is now an Amazon bestseller.
New York, NY (PRWEB) April 26, 2014
MiniSuit's SPORTY Armband and Key Holder for iPhone 5/5S/5C & iPod Touch 5 (Black) has recently earned the distinction of becoming the top selling sports armband amongst many similar products available on Amazon.com. This top of the line product was released by Minisuit in December, 2012, and it has received almost 200 positive reviews from delighted customers since then. A wide range of electronic accessories is available at MiniSuit for laptops, Smartphones, tablets, cameras, MP3 players, gaming consoles, and much more. The company has a rich tradition of manufacturing accessories that redefine the usage pattern of electronic devices.
Along with the ever increasing popularity of iPhones, the market for iPhone accessories has experienced tremendous growth in the recent years. MiniSuit has an enviable collection of iPhone accessories available for the best price in the market. Their new iPhone keyholder cum armband has been created specifically for iPhone 5, iPhone 5S, and iTouch 5. The armband comes with a keyholder and is equipped with an adjustment strap. Some of its most useful features include:

Made from lightweight and soft neoprene. As a result, it will never stretch out of shape in spite of regular twisting and bending.
Washable with water and gentle soap.
The armband stays put even when the users run, and the touch screen works through the clear cover.
Built-in hidden key holder helps users minimize carrying extra things when hitting the gym.
The armband is small enough to fit smaller arms, yet adjustable Velcro allows up to about 14" biceps.
With the summer approaching, the demand for 'Minisuit SPORTY Armband + Key Holder for iPhone 5/5S/5C, iPod Touch 5 (Black)' has reached an all time high. Many users of iPhone 5/5S/5C and iPod Touch 5 have strongly recommended this product. One of many reviewers in Amazon.com said, "I just bought an iPhone 5 and wanted to be able to run with it and this is a great product! It does not fit with your iPhone cover on, so make sure to take it off before inserting it. Holds snug, doesn't slip and I haven't had problems with the touch screen through the plastic. Wahoo!"
About Minisuit: Minisuit is the largest and the most preferred distributor across the globe for a wide range of electronic accessories. The company's popular product SPORTY Armband + Key Holder for iPhone 5/5S/5C, iPod Touch 5 (Black) is now the bestselling sports armband in Amazon.com.