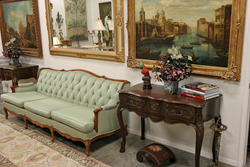 Hughes has over 80 years of experience valuing and marketing fine art, antiques, jewelry, vehicles, and home furnishings. Let them turn your items into a cash donation to Habitat for Humanity and help those in need build a better life.
Altadena, CA (PRWEB) April 08, 2014
Too much stuff? Want to redecorate? Have something you're ready to part with but feel it's too special to give away, yet don't want the trouble of selling it yourself? Hughes Estate Sales is teaming up with the San Gabriel Valley Habitat for Humanity to help you find a new home for your higher quality art, furniture, lighting, and décor and make a difference you can feel great about!
Here's how it works:

Call Hughes at (626) 791-9600 by April 30, 2014 to set up an appointment to bring in items during the week of May 5- 9.
Selected items will be sold at the Hughes June Showroom Sale. Proceeds will become cash donations to SGV Habitat for Humanity. Charitable donation receipts will be sent directly to donors from Habitat.
Items that Hughes can't include in the sale, or that don't sell, can be donated on the spot to Habitat. A Habitat in-kind donation receipt will be provided.
Consignment Selection Dates: May 5-9, 2014
Sale Dates: June 6-8, 2014
San Gabriel Valley Habitat for Humanity is a 501(c)(3) non-profit that engages the community to volunteer time, talent, money and donated materials to build affordable housing. This builds stronger communities, better neighborhoods, stable families and relationships that will last for years to come. Habitat for Humanity is a catalyst for positive change in the San Gabriel Valley, helping families to break the cycle of poverty and build long-term financial security.
Since 1978, Hughes Estate Sales has provided professional residential liquidation services to the Los
Angeles region. Hughes offers clients over 80 years of experience in valuing and marketing their fine art, antiques, collectibles, books, jewelry, vehicles, furnishings and higher quality household goods. Hughes manages donations to SGV Habitat's ReStores in Azusa and Pasadena regularly, and is thrilled to be expanding the partnership through this event.