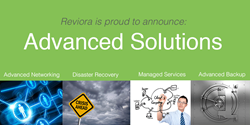 "Providing our customers with the most complete and comprehensive cloud experience is a priority, and with this new offering, we achieve that." -Brian Sallee
Clearwater, FL (PRWEB) April 21, 2014
Today Reviora, a cloud company that focuses on providing cloud for ERP and CRM, have announced that they are offering new services called Advanced Solutions. After successfully offering cloud for ERP and CRM for many years, customers started to ask for supporting services in addition to the cloud services that they were currently using. Reviora saw this as an opportunity to better serve their customers, as well as a natural progression to offer the most complete and best cloud service available.
The customer's cloud experience will be complete by adding advanced backup services, managing other components of a customer's IT operation, disaster recovery, and advanced networking services. Upon realizing the need, Reviora's CEO stated, "Providing our customers with the most complete and comprehensive cloud experience is a priority, and with this new offering, we achieve that."
Reviora's new Advanced Solutions are as follows:
Advanced Backup - This allows companies to gain control of backups at their location or on Reviora's cloud services with unlimited retention, drop box like downloads, customer access, and partner access and success notifications through the Advanced Backup solution.
Disaster Recovery - This ensures that a customer is always up at their location on Reviora's low cost Disaster Recovery solution. With this solution, the customer's recovery point objective can be as low as 15 minutes to recovery.
Managed Services - Since Reviora already manages the cloud services, customers can take advantage of having Reviora manage and support their on-site servers, on-site routers, other cloud servers, and desktops.
Advanced Networking - Reviora can make the cloud appear to be closer to the customer's office. Advanced networking increases speeds, monitors bandwidth, increases usable bandwidth, manages disaster recover, and increases security.
About Reviora: Reviora is a leading provider of managed hosting solutions for Microsoft Dynamics. They focus on enabling Microsoft partners to off software as a hosted, or on-demand solutions for their customers in order to create a revenue stream. Reviora also specializes in Vertical Cloud Services, helping Microsoft Partner with customized versions of Dynamics go to market with a fully web-enabled SaaS offering.