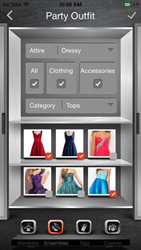 (PRWEB) April 08, 2014
A new app aims to tame the chaos in many users' closets. Wardrobe Organizer is currently available for iPhone, iPad, and Android devices. It is priced at $1.99 on the iTunes App Store and Google Play.
Upon starting the app, the user is presented with a virtual wardrobe to open. Once inside, there are nine built-in attires to choose from:

Casual
Dressy
Lingerie
Lounge
Sporty
Vacation
Work
Workout
Other
The user can also create new custom attires and delete any unused attires.
Within each attire are two compartments. One is for clothing (including coats, dresses, jackets, pants, shirts, suits, sweaters, tops, and vests) and the other for accessories (including belts, boots, bracelets, earrings, gloves, hats, necklace, purses, rings, scarfs, shoes, stockings, sunglasses, thigh highs, and tights). As with attires, the user can add and delete clothing and accessory categories at will.
For each new item, the user adds a picture from the device's gallery or camera. There are fields for a great variety of information about each piece, such as the brand, color, and price; a history of dates and occasions when the piece was worn; and any notes the user wants to make.
Each item can also be starred as a favorite and tagged as Dry-clean, Return, New/Replace, Found on sale, and Donate, with a custom note for each tag. Items can even be shared to social media networks Twitter and Facebook right from the app.
Once several items are in the virtual wardrobe, they can be combined into an ensemble. Clothing and accessories can be added and removed from ensembles at any time.
"I love fashion and shopping, so I wanted to design an app that would allow me to catalog the numerous articles of clothing and accessories in my closet," said the creator of Wardrobe Organizer, Venetia Williams. "I hope all the fabulous fashion lovers will enjoy it as much as I do!"
The Wardrobe Organizer app was developed for Venetia Williams by Zco Corporation, one of the largest app development companies in the world.
About the Developer
Zco Corporation, founded in 1989 and headquartered in Nashua, NH, is one of the largest mobile application developers in the world. Zco has experience creating custom mobile applications, enterprise applications, 3D animation, 3D games, and augmented reality on various platforms like iOS, Android, Windows Phone, BlackBerry, Symbian, and HTML5. As an expert in the industry, Zco strives to be on the forefront of mobile app development and creating custom applications for its clients. Learn more at http://www.zco.com.