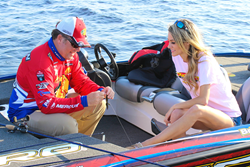 If the best in the world want to see how their competition figures it out, just think how this will help the beginner or weekend tournament angler.
Yankton, South Dakota (PRWEB) April 08, 2014
Exposed is ProPatterns' signature video series that follows the top Elite anglers in the sport as they practice competition waters before championship tourneys across North America. Designed to instruct and entertain, Exposed has been bringing the camera up close and personal with champion anglers as they reveal their secrets for breaking down patterns, studying waters, and formulating plans for tournament victory.
The Exposed Eligible Film Contest builds upon the Exposed format by asking fans to create their own Exposed Eligible videos. From June through August of 2014, participants have the opportunity to submit videos that will be voted on by the general public. The top ten finalists will have their videos evaluated by Exposed pros. This one-of-a-kind promotion not only offers amateur anglers the chance to show off their talents to the top pros in the sport, but also brings the winner of the contest into Elite territory. The top finalist of Exposed Eligible will find themselves in the boat with pro Tim Horton for a day of filming. The winner's video production will also become part of the 2014 Exposed video series lineup.
While out on the circuit helping promote Exposed Eligible, angler Brooke Thomas had the chance to catch up with, among others, Exposed pros Brian Snowden, Tim Horton, Bobby Lane, Matt Reed, and Boyd Duckett at the Bassmaster Elite at St. John's River this March. Thomas, who tells ProPatterns that she is shifting her focus from photo-based promotion to video content in 2014 with the goal of fishing Bassmasters in the future, took the opportunity at St. John's to get some pointers from pro angler Brian Snowden. Thomas' time with the Exposed pros at St. John's River is documented on the Exposed Facebook page.
For amateur anglers who might not have the opportunity to get up close and personal with the pros on the tournament trail, Exposed at ProPatterns.com offers the next closest thing. The first week in April saw the release of three new Exposed episodes starring Timmy Horton of Timmy Horton Outdoors, as well as veteran anglers Paul Elias and Shaw Grigsby during practice days leading up to the 2013 Elite Series Evan Williams Bourbon Showdown at St. Lawrence River. To round out Season 3, on April 15 Exposed will premier three final episodes starring pros Kurt Dove, Jason Christie, and Brian Snowden, filmed during practice days at the August 2013 Elite Series Plano Championship Chase at Lake St. Clair and Detroit River. For ProPatterns Elite Members, this now means instant access to seventy educational videos, available exclusively at ProPatterns.com.
Last December, Tim Horton told ProPatterns, "It would surprise the fans to know how many pay-per-view orders we get from Elite series guys. Think about that in the big-picture. If the best in the world want to see how their competition figures it out, just think how this will help the beginner or weekend tournament angler." While ProPatterns encourages creativity in the development of Exposed Eligible videos, fans setting out to create their own Exposed Eligible videos are encouraged to study and review the Exposed Video Vault not only for fishing and safety pointers, but also for filming and editing techniques.
Rules and eligibility requirements for Exposed Eligible are available at http://www.propatterns.com/page/ExposedEligible.
About ProPatterns, Inc. and Exposed:
ProPatterns, Inc. is a leader of angling education by sharing professional fishing tips, industry information and member services online. In addition, ProPatterns offers prize filled competitions, sharing of information among peers, and connections to industry professionals and media through means available nowhere else.
Information is gathered from various sources and disseminated with members in a variety of ways. The Exposed video series, for example, gains all of its integrity from an alignment with the biggest names in the bass fishing industry including professionals who fish with BASS, FLW, and PAA. Cooperation from the anglers and their willingness to share is the catalyst for the growth of this series.
Visit http://www.ProPatterns.com today to receive all of the latest information about the Exposed videos series and to learn more about all of the member services available.