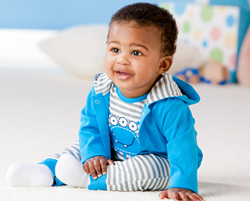 "We are very excited about the launch of our look book for our 2014 Spring Collection." Jeanne Dullea
Greenville, SC (PRWEB) April 16, 2014
Gerber Childrenswear, a leading provider of infant and toddler apparel, announces their 2014 Spring Collection look book launch on Pinterest. The look book gives parents the ability to engage with the latest collection of fashion sets and PJ's that are oh so adorable and affordable.
"We are very excited about the launch of our look book for our 2014 Spring Collection. It really gives parents an inside look at the breadth of product assortment we now produce beyond the everyday essentials for baby that the Gerber brand is known for," stated Jeanne Dullea, Vice President of Business Development for Gerber Childrenswear.
Gerber's latest collection features designs that include everything from flowers to animals and sports to bold stripes, allowing parents to incorporate their child's favorite characters and themes into their spring wardrobe. Throughout the look book, Gerber creates practical outfits often pairing bodysuits with pants or a cute hat and coveralls with coordinating jackets. Every piece of clothing is designed especially for infants to move freely without restriction while remaining comfy from head to toe.
The leading marketer for infant and toddler apparel is also currently running a campaign for their 2014 Spring Collection. By signing up and staying connected with Gerber Childrenswear, parents will be the first to hear about new arrivals, promotions and exclusive offers. Fans who sign up now will also receive a coupon towards the 2014 Gerber Spring Collection.
For more information about the look book, please visit the Gerber Childrenswear Pinterest page and to stay connected please visit here.
About Gerber Childrenswear:
Gerber Childrenswear LLC (GC LLC) is a leading marketer of children's apparel and related products, which it offers under its flagship licensed brand, Gerber®, and the Onesies® brand one-piece underwear. GC LLC also has licenses with Jockey®, Lamaze® and NFL brands in the layette, playwear, underwear and sleepwear categories. The company is the leading provider of these brands to volume retailers, department stores and specialty retailers.