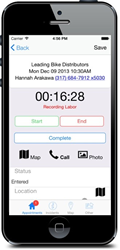 Atlanta, GA (PRWEB) April 10, 2014
Fieldpoint demonstrated their new smart phone and tablet applications at Microsoft Convergence 2014. The new mobile applications are scheduled for their summer release.
Fieldpoint has embraced the HTML 5 approach with additional tools that provide customers with superior mobile applications. They are fully integrated to rest of the field service management system and Microsoft Dynamics GP.
"We now have a framework for building cross-platform mobile web applications, that provides data access, and offline storage. Now you don't have to worry about whether you are connected or not. The technician just uses it, and the device takes care of the rest," says Phil Smart, VP of Development at Fieldpoint.
The new platform also allows Fieldpoint mobile applications to take advantage the camera, or perform background access to update device calendars and poll for new field service call updates. Technicians can not only record signatures, but also take pictures to document finished work or deficiencies. The mapping feature helps them with daily routing when they are assigned a bundle of new service calls.
Support for Apple iOS and Android will be released initially.