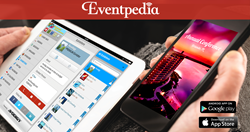 'Eventpedia provides such powerful features with great benefits, and I believe we share the same corporate values in providing ultimate customer satisfaction. Looking forward to working with them!' said Yoshua Surjo, Founder of The Canopy.
McLean, VA (PRWEB) April 09, 2014
Eventpedia, a well known event mobile app company, has partnered with The Canopy to better serve the Asian events industry. The Canopy has presently surprised their clients with fresh and new ways to make the events industry in Asia easier to maintain. This new partnership will offer companies a one stop solution for their events. With both companies aligned, clients now have the opportunity to revitalize their events with the latest event management technology in the industry. Not only will event management and marketing solutions be offered to clients, the partnership will also bring event mobile apps, to manage all future events of the clients. Since the event industry is growing rapidly in Asia, the demand for the event management product and technology has also increased tremendously.
"We are extremely excited to partner with The Canopy. They are a young company, full of exciting and creative ideas to enhance the event industry in Asia. I think this partnership is going to bring exceptional attendee experience and allow both companies to play a major role in this upcoming Asian market," said TJ Sun, President and CEO of Eventpedia.
Eventpedia's mobile app is available on both Android and iOS platforms. Not only does it offer extensive features for the event organizers and attendees, it is also designed to optimize the device display size to achieve maximum user experience. Some of the most popular features are session schedules, sponsor, exhibitor and speaker information, interactive maps, document center, and photo sharing. To find out more information, please visit http://www.eventpedia.com.
About Eventpedia
Eventpedia has been in the mobile app industry for over three years and has powered many events. The mobile platform provides an innovative app that offers companies ground breaking technology to simplify events with branded identity. Attendees can access event info such as session schedule, speaker, sponsor, floor plan, document and socialize within this feature rich app. Event organizers can manage the content through its powerful user portal. Apps can be downloaded from Apple and Android store or through a web URL. Its infrastructure can support single or multiple events within the same mobile app.
About The Canopy
The Canopy is a marketing consultant and events management company, based in Jakarta, Indonesia. This company is run by passionate people who integrate strategic knowledge with execution skills. The goal at The Canopy is to provide the utmost satisfaction between the clients and vendors at any of their events.
For additional information on the news that was stated in this release, please contact Info(at)Eventpedia(dot)com.