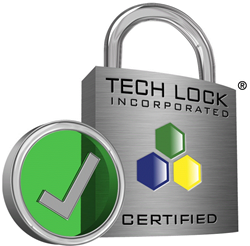 (PRWEB) April 09, 2014
TECH LOCK, Inc., a leading compliance and technology consulting company announced that it has been designated by Health Information Trust Alliance (HITRUST) as a Common Security Framework (CSF) Assessor. The HITRUST CSF is a certifiable framework that provides organizations with the needed structure, detail and clarity relating to information security tailored to the healthcare industry. Utilizing a common set of information security requirements, the Common Security Framework program delivers simplified compliance assessment and reporting for HIPAA, HITECH, state, and business associate requirements.
"The HITRUST CSF Assessor designation adds another industry recognized credential to TECH LOCK's compliance and certification services," stated Todd Langusch, TECH LOCK's President and CEO. "Similar to TECH LOCK's Payment Card Industry Qualified Security Assessor (QSA) or Approved Scanning Vendor (ASV) designation, HITRUST CSF is another credential that differentiates TECH LOCK from other consulting companies that haven't or are unwilling to undergo rigorous due diligence of best in class auditing practices and processes which ensure the best ROI and data security for their clients."
"With less than 10 firms in North America able to currently perform both PCI DSS and HITRUST certifications, being recognized by HITRUST for our security experience and qualifications in addition to our PCI QSA designation demonstrates the strength of our information technology security experts and our leadership in the marketplace," added Mike Wright, TECH LOCK's Chief Security Officer.
"TECH LOCK's extensive experience in holistic information security, combined with its successful track record in securing healthcare environments, makes it an ideal fit for the HITRUST program," said Ken Vander Wal, HITRUST's Chief Compliance Officer. "Adding the HITRUST CSF designation reaffirms TECH LOCK's commitment to provide a quality work product and company differentiator."
According to the Experian report "2014 Data Breach Industry Forecast," the number of reported healthcare data breaches in 2014 is expected to surge. This is just one reason why we are seeing more regulation from both the federal and state level. Recently, the HIPAA Omnibus Rule was enacted which requires compliance with new data breach and privacy requirements. This is likely to increase fines and the frequency of headlines about incidents. On the State level, Texas recently signed into law Texas H.B. 300 which impacts ANY entity that conducts business in Texas and collects, uses, and/or stores Protected Health Information (PHI).
For organizations that have a merchant contract and/or store, process or transmit cardholder information in addition to collecting, using, and/or storing protected health information, TECH LOCK's holistic compliance service will assist them in saving time and money when dealing with the complex regulatory environment that exists today.
ABOUT TECH LOCK, INC.
TECH LOCK, Inc. is a Payment Card Industry Qualified Security Assessor (PCI QSA), Approved Scanning Vendor (PCI ASV), and HITRUST CSF Assessor specializing in holistic information security, compliance, and information technology solutions. There is no "one size fits all" technology solution. TECH LOCK has the specialized knowledge, experience, and staff to understand your business and provide a solution that is aligned with your key goals and strategy.
Unlike our competitors who are project-centric and will provide you with single regulatory view, our comprehensive audit and assessment services provide your business with a gap analysis for multiple regulatory initiatives to increase your return on investment. Our TECH LOCK® Certified program assesses your environment for other applicable regulatory or established security standards and provides a detailed report to derive a holistic view of your information security posture.
Compliance validation is performed in areas such as PCI DSS, HIPAA/HITECH Act, HITRUST, GLBA, Red Flags Rule, ISO 27002, FISMA (NIST 800-53), Nevada NRS 603a, Massachusetts 201 CMR 17.00, and CFPB Readiness. TECH LOCK is a service disabled veteran owned small business. For more information, please visit http://www.techlockinc.com.