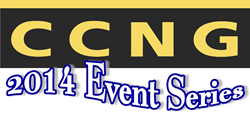 Great information shared by the presenters and valuable interaction shared among the groups...
Fort Worth, TX (PRWEB) April 08, 2014
CCNG International Inc. is pleased to announce the next event of the 2014 Improving the Customer Experience event series hosted by CCNG member Kohl's at their contact center in Menomenee Falls, WI. The 20+ CCNG event series identifies strategies and best practices for customer service and contact center operations focused on customer experience improvements in five key areas –

Call Center / Contact Center
Customer Loyalty and Rewards
Social Media / Social Care
Customer Feedback and Satisfaction
Self Service and Support
The 2014 CCNG events started back on February 27th with member host Thompson Creek Window Company / Closet America contact center operation in Lanham, MD, followed by the March 13th event in Charlotte, NC hosted by member Family Dollar. April events include host Coca Cola in Tampa, FL on April 10th and on April 24th in Phoenix, AZ hosted by Toyota Financial Services.
"CCNG events are new to the greater Milwaukee area and we are excited to have our member Kohl's kick things off hosting fellow CCNG members and their peers in call center, contact center, customer service and customer experience management" says David Hadobas, President and CEO of CCNG International Inc.
This year CCNG events are focused on improving the overall customer experience. Attendees will gain valuable insights and perspectives from a wide range of industries including retail, travel, financial services, public utility, telecom, insurance, healthcare, BPO, and many more.
Recent CCNG membership attendees share their thoughts about attending:
"The presentations were SPOT ON and the takeaways were of most value!
I just reviewed the pictures on Google and just wanted to share once again that it was a fantastic event!" Leatha Washington, HSN
"Great information shared by the presenters and valuable interaction shared among the groups." Mimi McGarry, Greater Cincinnati Water Works
"Just a quick note of thanks to you for doing an outstanding job at the recent CCNG event in Philadelphia. I have participated in I-don't-know-how-many events like this in my current and past business lives, and I must say this was not only of great interest and value, but also very professionally managed." Mitch Kraus, Plantronics
The May event in Milwaukee will feature a morning keynote from member Darren Ford, President, ProCulture Consulting, followed by the Open Town Hall all-attendee group discussion led by our host Kohl's, our morning presenter Darren Ford and the sponsoring CCNG partner Avaya and member Working Solutions. Afterwards will be the thought leadership "talks" from the two sponsors, followed by small group sessions and site tour. A very engaging day full of insights, feedback, peer perspectives!
For details on how to attend and guest pass availability, contact Ginger Graber, ggraber(at)CCNG(dot)com.
View program details at – http://www.CCNG.com
CCNG International Inc.
Founded in 1992, CCNG International Inc.
CCNG is a member Professional Peer Network (PPN) for Contact Center and Customer Service Executives, Managers, and Leaders.
Within the CCNG Member Network, Contact Center and Customer Service Professionals:

Connect for networking and sharing best practices
Interact to enhance their professional network and gain valuable insight into Contact Center and Customer Service best practices and technology.
Share their experience and ideas contributing to the valuable discussion
All Call Center, Contact Center, Customer Care, Customer Service, and Customer Experience Professionals are invited to participate in the CCNG Member Network.
For more information about the CCNG Member Network and to gain access, please visit CCNG.com. "Like" us on Facebook and follow us on Twitter @CCNGNetwork.
# # #