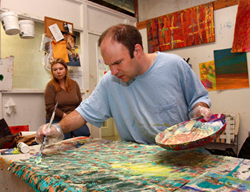 The exhibit showcases the talents and contributions to society of persons of all ages on the autism spectrum.
Chicago, IL (PRWEB) April 09, 2014
The acclaimed Art Museo at the InterContinental Chicago O'Hare will host the 2nd annual Brilliance of Autism show in association with the Autism One 2014 Conference, May 21 – May 25 at the InterContinental Chicago O'Hare. The exhibit showcases the talents and contributions to society of persons of all ages on the autism spectrum.
With oversized gallery panels, this impressive show will display works in all mediums: mixed media, paintings, drawings, printmaking, and 2-D. Artists' sculptures will also be on display in designated areas throughout the Art Museo. One of the featured artists returning this year is Trent Altman, recipient of the United Nations Stamp Award, 2012, and NYC McCarton Foundation Award Honoree, Genius of Autism, 2012.
Art samples can be seen at http://www.autismone.org/Arts-Exposition-Autismone-Conference-2014.
To commence the artwork installation, Dr. Jacqueline Marquette, art curator for AutismOne, will be bringing together art critics, art makers and art lovers alike for an exclusive opening preview reception with complimentary wine & cheese on Wednesday, May 21, beginning at 6:30 pm.
Art workshops will also be available to families during the AutismOne 2014 Conference proceedings.
WHAT: Brilliance of Autism – Wine & Cheese Preview Reception
WHEN: Wednesday, May 21 from 6:30 p.m. forward. Note: The exhibit will also be available for general public viewing 24-hours a day (at no charge) from Wednesday, May 21 through Sunday, May 25.
COST: Complimentary wine & cheese.
RESERVE: The reception is open to the general public. Art journalists please contact Dr. Jackie Marquette at jackiealt03@aol.com.
WHERE: The Art Museo at the InterContinental Chicago O'Hare
Lobby Level
5300 N. River Rd
Rosemont, IL 60018
(847) 544-5300
http://www.icohare.com/Art-Entertainment/Art-Gallery
About AutismOne
Autism One is a nonprofit, charity organization 501(c)(3) started by a small group of parents of children with autism. The charity focuses on educating the community on the preventable and treatable biomedical condition. The Autism One Conference, Autism One Radio, Autism One Outreach and Autism in Action initiatives educate more than 100,000 families every year about prevention, recovery, safety, and change. For more information or to register for the AutismOne Conference, please visit http://www.autismone.org/.
About the Art Museo
The InterContinental O'Hare hotel embraces all things cultural, and the rotating exhibits of Art Museo feature a captivating display of visual arts. From conception, art was at the heart of the InterContinental Chicago O'Hare. The property is essentially a series of art exhibition halls with meeting spaces and guest rooms built around it. A stay at InterContinental Chicago O'Hare includes an education in art, beginning with a complimentary tour of the Art Museo.
About the InterContinental Chicago O'Hare
With a fashionable yet timeless décor, original artwork adorning every wall and state-of-the-art amenities, the InterContinental Chicago O'Hare is a landmark destination for Windy City travel. The design-forward, 560-room hotel attracts leisure travelers, business professionals and local residents alike. Spacious rooms and suites awash in soothing shades, warm woods and elegant stone finishings. The InterContinental Chicago O'Hare is in a league of its own among large hotels in the area and offers entertainment that rivals the best in the region. It boasts four ballrooms, an acclaimed art gallery cared for by two full-time curators, the Montrose Room live music venue and an adjacent tapas style restaurant: Fresco 21, A Mediterranean Kitchen. TripAdvisor awarded the InterContinental Chicago O'Hare with a 2013 Certificate of Excellence. This prestigious award, which places you in the top-performing 10% of all businesses worldwide on TripAdvisor, is given to businesses that consistently earn high ratings from TripAdvisor travelers.