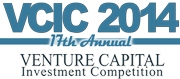 Chapel Hill, NC (PRWEB) April 09, 2014
The premiere competition for venture-minded and entrepreneurial MBA students will hold its global championship on April 10-12 at the University of North Carolina Kenan-Flagler School.
MBA student teams from around the world will convene in Chapel Hill with entrepreneurs and venture capitalists to vie for the 17th annual Venture Capital Investment Competition® (VCIC). They are the winners of 11 regional events in the United States, Spain, England, India and China.
VCIC simulates the entire investment process. Students play the role of venture capitalists, hear pitches from real entrepreneurs, evaluate deals and invest in the most compelling business plan. Venture capitalists observe and judge the whole process.
"This is not a business plan competition. We focus on teaching students about financing new ventures, and the most effective way to do that is give them exposure to and experience with the best deals and investors," said Patrick Vernon, VCIC director and executive director of the Center for Entrepreneurial Studies at UNC Kenan-Flagler. "It is a very powerful learning experience for students and entrepreneurs alike. Entrepreneurs connect with investors and VCs get an early peek at viable deals."
VCIC features a network of 50 events on three continents before it culminates in Chapel Hill.
Competing at the global championship will be teams from the business schools at Brigham Young University, Columbia University, Boston College, University of California Berkeley, Yale University, University of Colorado Boulder, Oxford University, CEIBS, Copenhagen Business School, Nanyang Technological University and UNC-Chapel Hill.
Started in 1998, the internationally recognized program serves about 1,500 individuals each year—1,200 MBA students from 60 top business schools, 175 venture capitalists and 125 entrepreneurs.
For more information, visit http://www.vcic.unc.edu/ and to register, visit http://www.vcic.org/globe.
#
About the University of North Carolina Kenan-Flagler Business School
Consistently ranked one of the world's best business schools, UNC Kenan-Flagler is known for its collaborative culture that stems from its core values: excellence, leadership, integrity, community and teamwork. Professors excel at both teaching and research, and demonstrate unparalleled dedication to students. Graduates are effective, principled leaders who have the technical and managerial skills to deliver results in the global business environment. UNC Kenan-Flagler offers a rich portfolio of programs and extraordinary, real-life learning experiences: Undergraduate Business (BSBA), full-time MBA, Executive MBA Programs (Evening, Weekend and global OneMBA®), online MBA@UNC, UNC-Tsinghua Dual-Degree EMBA, Master of Accounting, PhD, Executive Development, and UNC Business Essentials programs. It is home to the Frank Hawkins Kenan Institute of Private Enterprise.