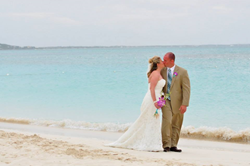 What better way to show why they are the best Resorts in the world, then a live experience from their newest resort.
State College, PA (PRWEB) April 08, 2014
L&S Travel LLC, a division of Four Seasons Travel LLC, a premier travel agency specializing in destination weddings and honeymoons, today announced a special webinar live from Sandals La Source with the leader in bridal fashion, Kleinfeld, legendary bridal salon and home of TLC's Say Yes to the Dress.
"Tracy and I have been doing Sandals Night Webinars for the past few years, but we wanted to add a new spin and show our clients why Sandals Resorts are the best Resorts in the world! What better way to show why they are the best resorts in the world, then a live experience from their newest resort," says Lindsay Smith, owner of L&S Travel.
The live webinar will feature the newest Sandals Resort, Sandals La Source in Grenada. Attendees will travel to Sandals La Source from the comfort of their own home to see why Sandals La Source is the premier location for honeymoons and destination weddings in 2014! Attendees will be able to experience dining, butler service, and much more during the webinar. They will have several special guests including Terry Hall, Kleinfeld Bridal's Fashion Director, who will be on hand to offer expert destination wedding and honeymoon fashion advice!
"I am a jet setter who loves to travel and I look forward to providing fashion advice to brides-to-be who are planning a destination wedding or honeymoon," says Kleinfeld Fashion Director, Terry Hall.
Each attendee will be entered to win a grand Prize $500 Gift Card to Kleinfeld.* In addition, each attendee qualifies for up to a $250 spa credit on their next trip to Sandals or Beaches Resorts.* Pre-Register today for this premier event that you won't want to miss by visiting http://www.lstravelsandalswebinar.com.
About L&S Travel/Four Seasons Travel LLC:
L&S Travel and Four Seasons Travel LLC are premier travel agencies specializing in Destination Weddings & Honeymoons. Lindsay Smith owner of L&S Travel and Tracy Dennis owner of Four Seasons Travel LLC and their team joined forces 4 years ago to help couples create their dream Destination Wedding or Honeymoon. Our team is by your side before, during, and after your trip to ensure your dreams come true! Together they have been recognized by Sandals & Beaches Resorts as a Best of the Best Travel Agency 2 years in a row! Lindsay Smith is a member of the prestigious Sandals Chairman's Royal Club.
About Kleinfeld Bridal:
Founded in 1941, Kleinfeld is the largest luxury bridal retailer in the world, carrying an unparalleled selection of American and European designer gowns. The 35,000 square-foot flagship salon is located in the heart of Chelsea, New York City and is host to TLC's hit show, Say Yes to the Dress.
*Some restrictions apply.