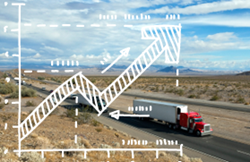 South Bend, IN (PRWEB) April 08, 2014
For over two years now, Stay Metrics and their experienced leadership have been hard at work researching truck driver turnover. From the psychology behind driver churn to carriers' recruiting processes, the retention firm has analyzed countless variables and looks to share best practices with the transportation industry.
Stay Metrics invites any and all individuals in the transportation and trucking industry to join the live webinar to be held on Thursday, April 10th at 2:00pm EST. Discover the best ways to engage drivers, as well as the benefits of gamification and surveys when it comes to driver engagement and retention. Get direction on using surveys to get actionable insights into the wants, needs, frustrations and joys of your drivers.
About Stay Metrics
Stay Metrics is a driver rewards and recognition program combined with a survey system customized for each carrier. It is proven to improve driver retention and performance and to modify behavior in the organization.