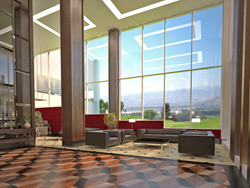 "The launch of this new hotel will establish Best Western as one of the first international hotel groups on the island, and we are confident our upscale BEST WESTEN PLUS product will be well-received," said Glenn de Souza
BANGKOK (PRWEB) April 08, 2014
Best Western International's rapid expansion in Indonesia is gathering pace, with the opening of the company's first ever hotel on the island of Sulawesi.
Located in the island's main international gateway city and commercial capital, Makassar, the BEST WESTERN PLUS Makassar Beach is a modern, upscale hotel located in the very heart of the action. Set on the main Jalan Botolempangan, which is home to a variety of vibrant restaurants and lively food stalls, the hotel is also just minutes from Losari Beach.
"We are delighted to announce the arrival of Best Western in the exciting city of Makassar, and on the incredible island of Sulawesi," said Glenn de Souza, Best Western's Vice President of International Operations for Asia & the Middle East.
"As Indonesia emerges as an economic power, trade and tourism is spreading out into the country's many outlying islands and provinces. As the 11th largest island in the world and home to outstanding cultural and ecological diversity, Sulawesi is becoming a new regional center of trade and tourism.
"The launch of this new hotel will establish Best Western as one of the first international hotel groups on the island, and we are confident our upscale BEST WESTEN PLUS product will be well-received by the increasing number of visitors to Makassar and Sulawesi," Mr. de Souza added.
BEST WESTERN PLUS Makassar Beach features 162 upscale rooms, including nine suites, ranging from 27-62m². All rooms come equipped with such modern amenities as 32-inch LED TVs, tea and coffee making facilities, alarm clocks and complimentary Wi-Fi.
Guests are able to take a refreshing dip in the semi-outdoor swimming pool, or simply unwind with a sunset cocktail at the pool bar. The 'Chill In Restaurant' offers exquisite local, Indonesian and Western cuisine, while the De Corner Lounge serves up a range of fine wines and spirits. The hotel also has 12 meeting rooms, all supported by modern audio-visual equipment and a business center.
BEST WESTERN PLUS Makassar Beach joins Best Western's existing portfolio of 12 hotels across Indonesia, including locations in Bali, Jakarta, Semarang and Malang and has plans to expand into other areas of the Indonesian archipelago including Sumatra and Kalimantan.
Currently, Best Western has a portfolio of more than 200 hotels across Asia. And the company expects to increase its regional collection to 300 properties in the next few years. Best Western first launched in Asia & the Middle East in 2001 and now covers 27* countries in the region.
For more information on global development opportunities with Best Western International, please visit bestwesterndevelopers.com.
To learn more about a specific hotel or discover other Best Western hotels across the world, visit http://www.bestwestern.com.
ABOUT BEST WESTERN INTERNATIONAL, INC.
Best Western International, Inc., headquartered in Phoenix, Ariz., is a privately held hotel brand made up of more than 4,000* BEST WESTERN®, BEST WESTERN PLUS®, BEST WESTERN PREMIER® hotels in more than 100* countries and territories worldwide. Now celebrating 68 years of hospitality, Best Western welcomes hundreds of thousands of guests nightly. Best Western provides its hoteliers with global operational, sales, marketing and promotional support, and online and mobile booking capabilities. More than 20 million travelers are members of the brand's award-winning loyalty program Best Western Rewards®, one of the few programs in which members earn points that never expire and can be redeemed at any Best Western hotel worldwide. The brand's partnerships with AAA/CAA, and Harley-Davidson® provide travelers with exciting ways to interact with the brand. In 2013, Best Western earned our highest level of brand recognition, including our fifth AAA/CAA Hotel Partner of the Year award, third Compuware Best of the Web Gold award, fourth No. 1 ranking in Brand Keys Consumer Loyalty Engagement Index for midscale hotels and seventh TTG Asia Best Mid-range Hotel Brand. Forty-one percent of Best Western hotels worldwide won TripAdvisor Certificates of Excellence for customer satisfaction.
For more information or to make a reservation, please visit http://www.bestwestern.com.
*Numbers are approximate and may fluctuate.