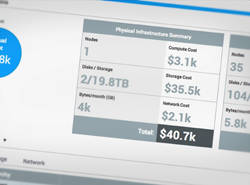 Cloudamize gave us the data we needed to make an informed and confident decision regarding migration to AWS.
Philadelphia, PA (PRWEB) April 08, 2014
Cloudamize, the leading cloud performance management platform for Amazon Web Services, today announced the general availability of Cloud Estimator to help organizations build the business case to move infrastructure to the Cloud. By analyzing workloads on current physical servers and virtualized machines over a period of time, Cloud Estimator provides the precise settings and total cost of ownership (TCO) to support those applications on AWS.
"Cloudamize gave us the data we needed to make an informed and confident decision regarding migration to AWS," commented Ryan Wise, Vice President, IT at SCI.
Prior to Cloud Estimator, many organizations blindly projected their costs and performance requirements manually because they lacked automated tools. As a result, they often miscalculated the planned environment which commonly led to longer decision cycles, incorrect provisioning during and after migration, and dissatisfaction when costs where higher than anticipated.
By provisioning based on data from an existing run-time environment, Cloud Estimator provides a faster, easier, and more accurate view of a projected AWS infrastructure. With Cloud Estimator, companies can:

Understand the TCO necessary to support their existing infrastructure in AWS.
Build a migration plan to the cloud based on the economics and provisioning requirements to support an application (Compute, Memory, Disk, and Network I/O).
Leverage the benefits of the cloud on "Day 1" by immediately utilizing reserve instance pricing.
"Without the right tools, it is difficult for organizations to get a true picture of the costs and performance of their infrastructure in the cloud," commented Khushboo Shah, CEO and founder of Cloudamize. "Cloud Estimator removes this uncertainty and enables companies to make cloud migration decisions faster and easier with confidence."
"With Cloud Estimator, I was able to get a quick and accurate total cost of ownership estimate that was based on our actual usage data," commented Josh Blender, Senior Engineer at Yext. "This approach was much more insightful than calculating costs based simply on machine sizes."
Available immediately, organizations interested in measuring their current infrastructure and projecting its size and cost in an AWS environment can sign up for Cloud Estimator at http://www.cloudamize.com/sign-up.
About Cloudamize
Cloudamize provides powerful tools for cloud performance management. Customers utilize the SaaS application to effectively assess, migrate, and optimize workloads within the cloud. Companies have experienced significant monthly savings on their cloud deployment, while simultaneously increasing performance. Using predictive analytics, the Cloudamize platform suggests optimal strategies to right-size and right-price both current and planned cloud infrastructure. http://www.cloudamize.com