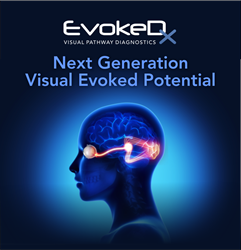 Irvine, CA (PRWEB) April 08, 2014
The next generation visual evoked potential device, EvokeDx™ will be brought to market by Konan Medical USA. Visual evoked potentials have been used to assess various problems in the vision pathway (retina to brain), but have had limited appeal to Ophthalmology and Optometry practices due to difficulties in interpretation and administration. As a fully integrated system, EvokeDx sets a new standard for the eye care practice: faster, easier to use and interpret, smaller, and less expensive.
EvokeDx, a FDA 510(k) cleared system, features a patented visual stimulus "icVEP" and novel analysis methods Tcirc2 and Fstat to elicit enhanced results with simplified interpretation. Results of a recent US multi-center clinical trial were presented at ARVO in which the EvokeDx icVEP technology was used to assess glaucoma damage to the visual pathway. The study data showed that the icVEP strategy provided strong differentiation between normal eyes and glaucoma affected eyes with an overall accuracy estimate (glaucoma cases vs. controls) of A′ = 89.2%. An additional, independent study last year in Beijing, China on the technology both confirmed this accuracy of classification (92%) and provided data which led to issuance of the first VEP glaucoma diagnostic indication in China.
"EvokeDx sets a new standard for visual pathway diagnostics with a fantastic user experience and solid clinical performance," said Charles Wm. Stewart, OD, Konan Medical USA CEO. "Where earlier generation products have often left clinicians uncertain of the results, EvokeDx provides graphically clear, statistically evaluated results while being actually enjoyable to use. Additionally, EvokeDx is a perfect complement to our RAPDx pupillograph, which also objectively looks at some of the same visual pathways, but from a completely different perspective."
EvokeDx is the next generation visual pathway assessment system that exclusively features icVEP, thought to selectively assess deficits in the ON division of the magnocellular pathway (Zemon et.al. 2008 Doc Ophthal). EvokeDx will be available in Q2 2014 to key opinion leaders and selected clinical sites. Interested clinical sites should contact Dale Sadlik at dsadlik@konanmedical.com.
About Konan
Headquartered in Irvine, California, Konan Medical USA Inc. develops, manufactures, sells, distributes and services specialty diagnostic products for eye care clinicians and eye banks, and supplies clinical diagnostic products for many of the leading ophthalmic product companies in support of sponsored FDA clinical trials research in the United States and other parts of the world. Konan Medical USA, Inc. is an ISO certified company. For more information on EvokeDx and Konan, visit http://www.KonanMedical.com.