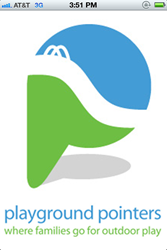 'I saw a void in the marketplace...quickly, I realized the need to fill this lack in the Chicagoland app world, and thus, Playground Pointers was born! It truly is the must-have app for parents exploring this city and suburbs.' - Founder, Mistie Lucht
Chicago, IL (PRWEB) April 09, 2014
Caregivers can search Playground Pointers' detailed, factual database of more than 1,000 playgrounds (and growing) with over 3,500 photos (and growing) to find information, play details, amenities and maps, helping them to keep their children entertained, active and outdoors. In addition to listing specific play equipment details, including (but not limited to) types of swings, climbing structures, sandboxes and other play options, the database includes information on water play, bathrooms, public transportation, cleanliness, parking availability, shade or sun, nearby food and drink options, surfacing and additional play amenities, such as baseball fields, basketball courts, tennis, etc. Playgrounds can be searched on a variety of platforms, too, including via proximity to your location, by name, zip code, neighborhood, or play details.
Bonus feature: the "Your Perfect Playground Day" feature suggests special activities, places and businesses to visit based on the user's selected playground, and to encourage families to explore the many great neighborhoods of Chicago.
Playground Pointers is currently only available for Chicagoland playgrounds, including listings for all city of Chicago playgrounds as well as some expansion to the suburbs.