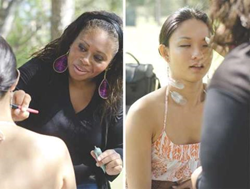 Long Beach, California (PRWEB) April 15, 2014
Chantell K. Crenshaw announces her new business, Chantell's Makeup Bar. She has been freelancing for 6 years and in business for 2 years. Chantell relates how she stayed in business is that she has a passion to create instant beauty for people who want to look their best.
The company missions are to be friendly and work hard as a professional makeup artist, multicultural promotion, ethnic diversity, and maintain a strong positive image. They are proud to give private makeup and skin care consultation to help customers make the right choice, whether customers fly in from a different state or make a surprise visit to the bar. Chantell enjoys giving facials, hairstyles, and makeup products. Customers are coming out the bar with natural, chic, glamour, and glowing skin. Many people are glad they took the time to pamper themselves.
Chantell has always wanted her own business. She has two independent professional makeup artists who assist her for large events. All work hard to see that everyone look amazing. Gratitude comes from friends, workmates, and even strangers, and is shown by many customers. Their work build's self-esteem that makes a difference in people lives. She enjoys her work so much it's turning into a business she wanted and it shows.
After two years of a fanatic season, Chantell's Makeup Bar is taking a giant leap to announce the upcoming makeup fashion show featuring the hottest new makeup for spring and summer of 2014. The company looks forward to working with new sponsors, designers, press and all our fans. It held at the BusinessExpo in Anaheim, California on May 25, 2014.
For more information, please visit http://www.chantellsmakeupbar.com
We look forward to seeing you at Chantell's Makeup Fashion Show on May 25, 2014!