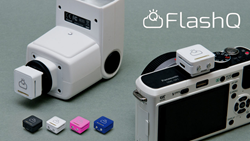 From snapshots to great shots, FlashQ makes wireless flash photography easy. Compact and stylish.
Hong Kong (PRWEB) April 09, 2014
FlashQ is the world's smallest wireless flash trigger designed to work with external flashes for compact system and DSLR cameras. FlashQ enabling off-camera flash lighting, allows photographers to have greater control of light and create brilliant photographs with flexible lighting.
While there are many wireless flash triggers available on the market, none of them are good in size and look stylish when using with compact system camera. FlashQ is uniquely designed to be appealing for compact system camera, affordable and being a handy, light-weight tool in camera bag.
"I have difficulty in finding a suitable wireless flash trigger for my Micro Four Thirds camera. Most of them are large in size or not a good looking one. This is why my team starts to work this out." said Anita, Creator of FlashQ.
Simple to use! Attach FlashQ transmitter to the camera hot shoe on top, FlashQ receiver to a remote flash via hot shoe or sync cord, pair-up FlashQ devices and start taking photos with endless possibilities of flash lighting.
FlashQ is designed to work with most digital cameras equipped with standard ISO hot shoe. It supports remote triggering flashes at sync speeds up to 1/250 sec (On compatible cameras and flashes). No TTL information is transmitted. FlashQ is committed to be a universal product across different camera brands.
FlashQ system supports Automatic Clear Channel Selection and Secured Pair-up, with a bulk of 160 channels for selection. Pairing made easy without manipulation by user. Simplifying the user interface, results in not many buttons on its stylish, cubic outlook. Moreover, one transmitter can control up to 8 flash receivers up to 20 meters away. Proprietary energy-efficient radio protocol enables the transmitter / receiver device just being powered by a CR2302 coin battery. Small in size but packs a punch, FlashQ can support more than 100,000 times triggers and 180 days standby time on one battery life.
FlashQ will be available with 4 color options, including Midnight Black, Snow White, Macaron Pink and Knight Blue.
To check out the project, visit: http://igg.me/at/flashq; Like FlashQ on Facebook: https://www.facebook.com/lightpixlabs; and follow Twitter https://twitter.com/lightpixlabs to stay up-to-date; and informed with the campaign.
The fund from crowdfunding campaign will go directly for product enhancement and first manufacturing of FlashQ. The backers will reward FlashQ at first availability, as soon as Sep 2014. The project, which launched last week, has gained significant attentions and supports from photography community. Prices start as low as $30 for a FlashQ kit, including international shipping.
About LightPix Labs
LightPix Labs, the team behind FlashQ, is founded by a talented team of creators, designers and engineers, based in Hong Kong. We all share the mind: pushing the boundaries of innovation to create revolutionary products. To learn more about LightPix Labs, visit http://lightpixlabs.com/.