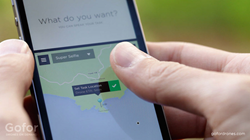 "Like Uber for Drones"
San Francisco, CA (PRWEB) April 08, 2014
Gofor, a Bay Area startup, announces its new mobile app of the same name, created to provide drones on demand. "Like Uber for Drones", Gofor enables users to assign drones to help them with a variety of tasks. See it in action on the official site.
Using the Gofor app, drones can be requested to perform one of numerous preset task assignments. Gofor's tasks are basic, but designed to be imminently helpful to the consumer -- location scouting, HD documentation, security, internet range extension, and free flight are a few examples.
"The consumer drone market has exploded over the last couple years. Unfortunately, the most exciting technologies are typically reserved for the military; consumer drones meanwhile mostly resemble child's toys and RC helicopters, capable of nothing more than novelty aerial imaging," said cofounder Stefan Cassel. "Gofor is poised to take the consumer drone market to the next level with a mobile solution that is of course advanced, but more importantly, helpful."
Users of ridesharing apps will be familiar with Gofor's map-based dispatch interface. Drones in the vicinity appear over the map, and an approximate ETA is shown based on the location of the drone and the user. Depending on the task, drones either operate autonomously or are flown by skilled operators.
Details about Gofor and their new mobile offering can be found on their official launch page.
Gofor is an on demand drone service that connects users with advanced unmanned aerial technology. The free mobile app is being announced today.