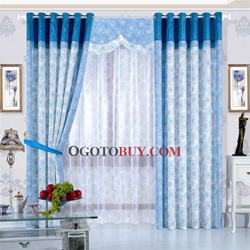 (PRWEB) April 22, 2014
Recently, Ogotobuy.com, a well-known name in the curtain industry, has launched its blue floral curtains; the company is now offering big discounts on these products. According to the CEO of the company, many customers worldwide are happy with their blue floral curtains.
Ogotobuy.com is popular for its offering cheap curtains for everyone; the company has shown that good quality doesn't always come with high prices. All the products at Ogotobuy.com are available at deep discounts of up to 70%. Furthermore, discounted shipping on all products is also offered.
"I have ordered the fantastic set of curtains from this company. These were exactly what I expected to receive. I expected thicker and heavier curtains than normal ones, and the company offers what I need. I can see how these curtains would restrict airflow between the windows and they would be OK for blocking the light. I am happy with them," a customer from the UK comments.
Regardless of how low the budget, Ogotobuy.com has a wide range of curtains for every customer. This surely justifies their claim of providing "cheap and delicate curtains online" for every customer.
The company aims to provide premium quality curtains at the lowest possible prices. Their strict quality control, low rates and amiable customer services have made them one of the leading brands worldwide.
About Ogotobuy.com
Ogotobuy.com is a professional manufacturer and retailer of household products. People can find various cheap curtains, comforters, pillows, sheets, and bath towels at its online store. The company assures that all its goods are designed, tailored, and made by its experienced team. The company aims to supply high quality products at affordable prices to its customers worldwide. More details at http://www.ogotobuy.com/floral-curtains-c-1_2_21.html.