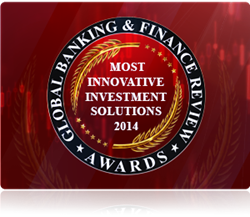 Investment products of MFX Broker awarded for "Innovative solutions in the sphere of investment 2014" by Global Banking & Finance Review
Russia - St.Petersburg (PRWEB) April 14, 2014
Investment products of MFX Broker became the best among the nominees in this category in 2014. According to Global Banking & Finance Review MFX Broker offered the best solutions in the investment sphere for its clients.
During the recent 6 months MFX Broker created a full investment structure, products of which already bring profit both to investors and the company.
Igor Volkov, President of the International Financial Holding MFX Group:
"Our ideas of investment products launch proved their value. Invest to MFX offices program widens. There are MFX Broker's offices already opened in Russia, Azerbaijan, Georgia, and Nigeria. Investors of these offices get investment loans on a regular basis. It is about 10% every 3 months. Most of investors are in CIS and South-East Asia. We appreciate their level of involvement into innovative services of the company. These clients are interested in profound augmentation of their capital funds. I believe that this award is a proof for that."
At the moment the general sum of the program is $465,000. This reading will be increasing regularly due to opening of new offices.
The first time the investment program demonstrated its efficiency was December 2013 when just after three months investors got the first profit from the funds invested to establishment of MFX Broker office in Azerbaijan according to the unique Invest to MFX Broker offices program. The total sum of gathered funds composed $175,000. According to the terms, the company paid each investor 10% of the profit for the first 3 months of office's functioning.
Unicity of the program is that at minimal investment of $100 investors get opportunity to become a full-right co-owner of the business. The residence of the investors is not important at all. Profitability of this program composes 30-50% per annum from an opened office.
In the nearest future MFX Broker plans to open new offices according to co-investment program in Indonesia, Malaysia, Nigeria, and Russia.
Become the co-owner of the next office! Invest to your future!
Representatives of MFX Broker are always ready to give full information about investment products, and other fields of the company's activity.
Email: investment(at)mfxbroker(dot)com

Annual authoritative publishing Global Banking & Finance Review chooses the best financial companies, which get awards for innovations, achievements, new strategies, progress, and significant influence to the financial sector. This publishing is popular in global banking and financial community