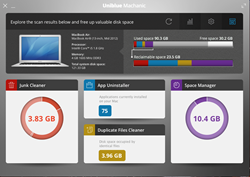 (PRWEB) April 08, 2014
With over ten years of experience to boast of, software development company Uniblue has already proved its expertise and success within the PC market through its extensive software portfolio. With a vision to enable even the least tech-savvy of PC users to make the most of their computer, Uniblue now wants to extend that same empowerment to Mac users.
Where Mac® devices are concerned, Uniblue has recognized the need for a cleaning utility. Over time and owing to continuous use, hard disk space speedily gets eaten up. Freeing up precious disk space has become necessary not only to maintain basic operational functions, but also to ensure users still have space to save as many files, photos or videos as they wish. Machanic offers users the chance to get on top of their hard drives through four powerful features:
Junk Cleaner: The Junk Cleaner feature identifies the numerous junk files that accumulate due to everyday use, and allows users to safely clean them with the click of a button.
App Uninstaller: The App Uninstaller tool offers a safe and clean uninstallation process. Not only does it completely remove any application users choose to delete, but it will also erase all associated files that would otherwise be left behind cluttering your Mac.
Duplicate Files Cleaner: The Duplicate Files Cleaner feature effectively locates files identical to each other, even if they do not share the same name. The user can then preview the files and decide what to keep and what to trash.
Space Manager: The Space Manager feature renders a graphical representation of the hard disk in order to give the user a clearer idea of its contents. Users can then quickly identify large or unused files taking up valuable space on the hard disk, and decide what can be deleted.
The beauty of Machanic is that it packs effective space-saving features in an easy-to-use, yet safe application. Thanks to Machanic, users can now easily get their Mac devices back into shape. Try it now or learn more about it here.