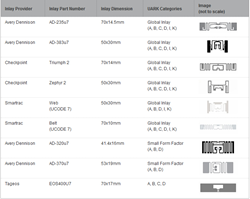 Eindhoven, Netherlands and Orlando, Florida (PRWEB) April 08, 2014
NXP Semiconductors N.V. (NASDAQ:NXPI) today announced that its industry leading UCODE 7 UHF IC, which set new industry standards for performance, versatility and speed when introduced in 2013, is the solution of choice for multiple inlay providers supporting global supply chain management applications. Major inlay providers are now able to offer a single form-factor and fully compliant tagging solution to retailers wanting to streamline large scale, international operations. Used in RFID-enabled supply chain applications, NXP's UCODE 7 UHF IC offers unprecedented broadband read and write performance covering all University of Arkansas' Radio Compliance (ARC) Center categories – A, B, C, D, I and K.
Having a single form factor inlay that meets both FCC (Federal Communications Commission) and ETSI (European Telecommunications Standards Institute) frequency regulations offers huge benefits and flexibility to retailers, brand owners and suppliers in their worldwide supply chain. To ensure compatibility the Arkansas Radio Compliance (ARC) Center tests inlays against technical performance specs for the various regions. Categories A, B, C and D cover all US FCC frequency regulations for different apparel types, while categories I and K cover European regulations.
"With current efforts to update European regulations to allow for alignment with US RFID frequencies in the near future, we are seeing a surge in interest amongst retailers and product manufacturers for 'Global' RFID tags. 'Global' tags are qualified by ARC for performance in Europe and the US, and typically source tagged in Asia, Central, and South America. Moving to global tags is critical to RFID adoption; now we are truly seeing international alignment in technology and cooperation amongst retailers and product manufacturers in tagging solutions," said Justin Patton, director of research at University of Arkansas' RFID Research Center. "Currently NXP's UCODE 7 IC is integrated into Avery Dennison's AD-235u7, Checkpoint's Zephyr 2 and Triumph 2, and Smartrac's latest version of their Web and Belt UCODE 7 inlays, and are all approved for ARC categories A, B, and D, which cover various product types and store environments in the US frequency band. They are also approved for ARC Categories I and K, which cover various products and store environments in the allowed European frequency range."
"NXP's global approach to RFID apparel tagging greatly simplifies operations for many major retailers and brands. Now that many of NXP's partners offer inlays that can be used on any category for any region, it is no longer necessary to consider multiple tagging solutions to maintain high performance on a regional basis. UCODE 7 solutions drastically simplify both inlay procurement and inlay inventory management while also significantly reducing operating costs," said Suresh Palliparambil, director of sales, Americas, NXP Semiconductors.
In addition to a selection of true global tags, NXP's inlay partners now offer UCODE 7 based inlays in form factors as small as 41.4x16mm whilst still meeting high performance demands of categories such as Denim (ARC Category A).
A complete list of available ARC approved UCODE 7 inlays can be found here.
UCODE 7 also delivers parallel encoding and the fastest encoding capability on the market, with 100 items programmed in a matter of milliseconds. This incomparable level of performance can significantly increase throughput when encoding apparel, shoes, pharmaceuticals and other items in manufacturing and distribution centers or in-store; enabling high-speed brand protection and tracking processes. For more information on UCODE 7 visit http://www.nxp-rfid.com.
About the RFID Research Center
Over 30 industry-leading companies joined forces to found the RFID Research Center to support a multidisciplinary, neutral, third-party research and testing facility. After several years of development, the ARC system was introduced in 2011. ARC is a system for testing and evaluating tags and a corresponding database that stores comprehensive performance data of in-development and market available RFID tags. The RFID Lab is currently located at the University of Arkansas, but will move to Auburn University in June 2014. For more information please visit rfid.uark.edu
About NXP Semiconductors
NXP Semiconductors N.V. (NASDAQ: NXPI) creates solutions that enable secure connections for a smarter world. Building on its expertise in High Performance Mixed Signal electronics, NXP is driving innovation in the automotive, identification and mobile industries, and in application areas including wireless infrastructure, lighting, healthcare, industrial, consumer tech and computing. NXP has operations in more than 25 countries, and posted revenue of $4.82 billion in 2013. Find out more at http://www.nxp.com.
ENDS
Forward-looking Statements
This document includes forward-looking statements which include statements regarding NXP's business strategy, financial condition, results of operations and market data, as well as other statements that are not historical facts. By their nature, forward-looking statements are subject to numerous factors, risks and uncertainties that could cause actual outcomes and results to be materially different from those projected. Readers are cautioned not to place undue reliance on these forward-looking statements. Except for any ongoing obligation to disclose material information as required by the United States federal securities laws, NXP does not have any intention or obligation to publicly update or revise any forward-looking statements after NXP distributes this document, whether to reflect any future events or circumstances or otherwise. For a discussion of potential risks and uncertainties, please refer to the risk factors listed in NXP's SEC filings. Copies of NXP's SEC filings are available from the SEC website, http://www.sec.gov.