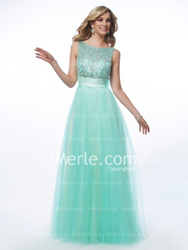 (PRWEB) April 08, 2014
Recently, iMerle, a popular dress supplier in the industry, offering a wide range of women's dresses, has happily updated its website with the newest designs in 2014. To attract more customers, all its dresses are now available at discounted rates, up to 88% off.
"We are extremely excited to knock off the prom season with iMerle Dresses. Nowadays, too many ladies from Spain expect to buy our new dresses, and we are here to help them get a unique design. Along with the big discounts, we provide discounted shipping fees to customers from every part of the world," the marketing manager of the company says.
According to the manager, the new collection of women's dresses is specially designed for the Spanish market. iMerle helps improve the quality of women's life, and it aims to benefit all its customers by launching such a promotion. iMerle hopes to catch every opportunity to spread its business to more new markets.
iMerle has been specializing in the dress industry for years, and it knows what customers need. Before introducing the new range of dresses, the company has done much marketing research. The new designs of dresses are offered in various colors and styles.
About iMerle Ltd.
iMerle Ltd. is a UK based dress company offering many wedding party dresses and cute accessories at affordable prices. Customers' satisfaction is the company's top priority, and its team is standing by to assist any client while shopping. The company is now very famous for its outstanding quality in fabric, materials, and fit without the inconvenience and costs of traditional bridal boutiques and retailers. More details at Facebook: http://www.facebook.com/iMerleCo or website: http://www.imerle.com/es/