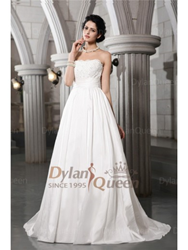 (PRWEB) April 10, 2014
Dylan Queen hopes to develop as a place for women worldwide to shop the finest designer clothes, dresses and accessories. Today, the business introduces its new designs of wedding dresses. To expand the online market, all its dresses (wedding dresses, prom dresses and more) are offered at discounted prices.
The luxurious designs, featured with top-quality fabrics and materials, are certainly popular with those who want to buy new wedding dresses online. Ladies can find many customer feedback on Dylan Queen's dresses on the website.
"We are offering great discounts, up to 85% off, on all our dresses, which come with many positive reviews left by customers. Our designer team is so pleased with the new products and confident in the quality; we are offering a no-hassle free replacement guarantee for our customers worldwide," the CEO of the company says.
"In addition to the elegant design and quality fabrics, our dresses have everything needed to make them attractive. Our product team will explain the features of the dresses for those who have an interest in our designs. Please feel at home to contact with us," he adds.
Not only Dylan Queen has the most fashionable wedding dresses on the market today; it also provides discounted shipping costs for its clients worldwide. Please note that the dresses will be delivered in 20-30 days after payment receipt.
About Dylan Queen
Dylan Queen is a reliable dress company. At its one-stop website, it offers a wide variety of chic dresses, including prom dresses, evening dresses, bridesmaid dresses, formal dresses etc. Its aim is to provide worldwide customers with fashionable gowns at acceptable prices. It frequently updates its website with new assortments.
For more details of the company and its products, please visit: http://www.facebook.com/iDylanQueen or http://www.dylanqueen.com/.