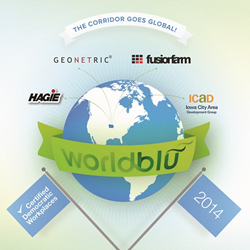 We operate off a core set of values that guide our work. Everyone understands what our goals and roles are and each day we get better at learning how to support each other. – Mark Nolte, ICAD Group President
Iowa City, Iowa (PRWEB) April 08, 2014
Fusionfarm, Geonetric, Hagie Manufacturing and The Iowa City Area Development (ICAD) Group were among the 41 organizations certified this year as part of the WorldBlu List of Most Democratic Workplaces™, published annually on "Democracy in the Workplace Day". Based entirely on employee feedback, this groundbreaking global award shines a spotlight on visionary organizations that practice successful organizational democracy.
The WorldBlu survey evaluates an organization's practice of ten democratic principles including transparency, integrity, dialogue and listening, accountability and choice on leadership, individualism, systems, and processes. Organizations become eligible for a spot on the WorldBlu List of Most Democratic Workplaces™ after employees complete The WorldBlu Design Assessment™, a survey evaluating their practice of the WorldBlu 10 Principles of Organizational Democracy™, with an overall combined score of 3.5/5 or higher.
"People would rather work in organizations that are based on freedom and democracy rather than fear and control," comments WorldBlu Founder, CEO and Iowa native, Traci Fenton. "WorldBlu-certified organizations model how freedom and democracy in the workplace unleashes the human spirit in order to build high performing companies that change the world for the better."
ICAD Group, Geonetric and Fusionfarm are located the greater Iowa City/Cedar Rapids area known as Iowa's Creative Corridor. This is Fusionfarm's second consecutive year on the list. Hagie Manufacturing is located in the North Central Iowa community of Clarion.
Regarding her home state's presence on this global list, Fenton states, "It's exciting to see the collective efforts in Iowa to create democratic workplaces paying off. Being raised in Iowa, I take pride in the focus the state is taking on creating impressive workplace cultures."
Well-known companies to make the WorldBlu List include Zappos.com, Menlo Innovations, New Belgium Brewery, DaVita, and The WD-40 Company. The organizations ranged in size from five to 65,000 employees representing over $11 billion in combined annual revenue. For-profit and non-profit organizations from across the US, Canada, Mexico, the UK, Netherlands, Denmark, Malaysia, Haiti, New Zealand, Belgium and Romania made the WorldBlu List from a diversity of industries including technology, manufacturing, healthcare, retail, and services.