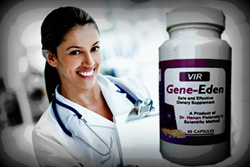 Individuals with severe diarrhea may have an underlying EBV or CMV infection. We recommend asking the doctor for an EBV and CMV blood test. If positive, that person should ask the doctor about Gene-Eden-VIR. - Mike Evans, polyDNA
Rochester, NY (PRWEB) April 11, 2014
polyDNA's latest survey found that 89% of respondents did not know that the Epstein Barr Virus (EBV) can cause severe diarrhea. Normally, EBV does not cause diarrhea. However, when the virus infects the colon, and a person is infected with the human cytomegalovirus (CMV), the two viruses can cause severe colonic toxicity. For example, a case study showed that the diarrhea of a 52 year old woman "was triggered by CMV infection and perpetuated by intestinal EBV replication/infection." (See BMJ Case Reports, from July 10, 2013) (1). polyDNA recommends that individuals with severe diarrhea ask their doctor for a blood test to check for the presence of the Epstein Barr Virus. If positive, they should talk to their doctors about Gene-Eden-VIR. This natural product was recently shown to reduce symptoms of EBV and CMV infections in a post-marketing clinical study that followed FDA guidelines.
Research shows that the latent EBV can be reactivated when CMV infects the individual. A study found that, "Both near-simultaneous infections and temporally remote sequential infections with acute CMV triggering an immunoreactivation of EBV are reported in the literature." (See the journal of South Dakota Medicine, from September 2009) (2). Another study reported similar results. "Numerous studies have shown that Epstein-Barr virus (EBV) and cytomegalovirus (CMV) can infect immunocompetent patients simultaneously." (See Virology Journal, from September 21, 2010) (3). Additionally, "EBV/CMV infects at least 90% of the world's population and can persist in a latent form after primary infection. Reactivation can occur years later (3)."
Study authors wrote that, "The defensive responses to infection with EBV/CMV can be limited or very broad, which leads to diverse clinical manifestations of infection (3)." As Dr. Colin Tidy wrote "In the lower gastrointestinal tract, patients with CMV may present with diarrhoea (diarrhea) due to colitis." (See Patient.co.uk, last updated on April 1, 2013) (4).
"A common member of the herpes family of viruses, the Epstein-Barr virus is spread primarily through the exchange of saliva, which is why mono is sometimes known as "the kissing disease." Coughing or other contact with infected saliva can also pass the virus from one person to another. The mono virus can stay active in a person weeks or months after all overt symptoms are gone, so close contact with someone who shows no sign of the disease can still put others at risk." (See WebMD, last updated on March 12, 2014) (5).
"Individuals with severe diarrhea may have an underlying EBV or CMV infection. We recommend asking the doctor for an EBV and CMV blood test. If positive, that person should ask the doctor about Gene-Eden-VIR. This natural antiviral was designed to help the immune system target the latent EBV and CMV viruses." – Mike Evans, polyDNA
A study published on August 12, 2013 in the peer reviewed, medical journal Pharmacology & Pharmacy, in a special edition on Advances in Antiviral Drugs, showed that Gene-Eden-VIR reduced EBV symptoms. Study authors wrote that, "Individuals infected with the Epstein Barr Virus…reported a safe decrease in their symptoms following treatment with Gene-Eden-VIR (6)."
The study authors also wrote that, "We observed a statistically significant decrease in the severity, duration, and frequency of symptoms (6)."
To learn more about Gene-Eden-VIR, and EBV, visit http://gene-eden-kill-virus.com/EBV.php. All orders of Gene-Eden-VIR are completely confidential, and no information is shared or sold to any third party. Privacy is assured.
References:
(1) Not your usual diarrhoea: severe colonic toxicity of mycophenolate due to intestinal CMV and EBV infection. From July 10, 2013.
http://www.ncbi.nlm.nih.gov/pubmed/23845678
(2) Co-infection with cytomegalovirus and Epstein-Barr virus in mononucleosis: case report and review of literature. Published in September 2009.
http://www.ncbi.nlm.nih.gov/pubmed/19791523
(3) Coinfection with EBV/CMV and other respiratory agents in children with suspected infectious mononucleosis. Published on September 21, 2010.
http://www.virologyj.com/content/7/1/247
(4) Patient.co.uk - Cytomegalovirus. Last updated on April 1, 2013.
http://www.patient.co.uk/doctor/cytomegalovirus
(5) WebMD - Information and Resources - Understanding Mononucleosis - the Basics. Last updated on March 12, 2014.
http://www.webmd.com/a-to-z-guides/understanding-mononucleosis-basics
(6) Gene-Eden-VIR Is Antiviral: Results of a Post Marketing Clinical Study. Published in September 2013.
http://www.scirp.org/journal/PaperInformation.aspx?PaperID=36101#.U0PKT6iSz90
polyDNA is a biotechnology company that develops dietary supplements using the unique scientific method developed by Dr. Hanan Polansky, which is based on Computer Intuition.
In addition to his unique scientific method, Dr. Polansky published the highly acclaimed scientific discovery, called Microcompetition with Foreign DNA. The discovery explains how foreign DNA fragments, and specifically, DNA of latent viruses, cause most major diseases.
polyDNA developed Gene-Eden-VIR, an antiviral natural remedy that helps the immune system kill latent viruses.