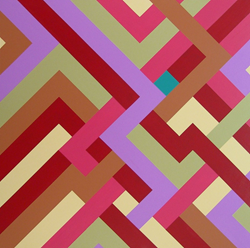 Savannah, GA (PRWEB) April 09, 2014
The Hospice Savannah Art Gallery is proud to announce an upcoming reception that will be held for artist Stephen Darr from 5:30 to 7:30 p.m on Thursday, April 24. The show, "Moving off the Grid: Acrylic Abstractions in Color and Line," is said to be a "vibrant feast for the eye."
Stephen Darr is an emerging painter who finally answered the call of his "inner artist" as he approached retirement. "I knew I wanted to paint and I have dabbled at painting for years, but never taking what I did seriously or thinking it was of much value," said Darr. "You see, I grew up in an era where being an "artist" meant you were some kind of beatnik living in a squalid studio freezing and starving."
He then realized one night during a walk in November 2012 that sharing his paintings for the viewing and enjoyment of others was something that needed to be done. "The entire concept, how they would be developed and executed, everything about them was clear to me," he said. "I immediately went home and began to work and have not stopped since that night."
The results are exquisitely executed geometric abstractions that can both startle and soothe the viewer. Influenced by circuit boards and underground subway maps, Darr has been experimenting with size and modular sets of paintings: vivid pairings that match up on all four sides and can be rearranged to create multiple unique compositions.
The reception will be held at The Hospice Savannah Art Gallery located at 1352 Eisenhower Drive, next to the US Post Office. As always, a percentage of sales will benefit not-for-profit Hospice Savannah, Inc. For more information, please contact Beth Logan, Director of Marketing, by calling 912.355.2289 or visit http://www.HospiceSavannah.org/ArtGallery.
About the company:
Hospice Savannah, Inc., a not-for-profit organization, provides the community with the best services and resources for living with a life-limiting illness, dying, death, grief and loss. Hospice Savannah exists to help lift the burden of worry when you or any of your loved ones receives a life limiting diagnosis.