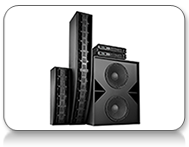 the highest quality movie-going experience to all our guests
Cypress, CA (PRWEB) April 14, 2014
Christie®, the industry-preferred brand in the digital cinema projection market, today announced that Cinemark Theatres has installed the Christie Vive Audio™ cinema sound system in its state-of-the-art Cinemark XD: Extreme Digital Cinema auditorium at the Cinemark StarCreek 16 in Allen, Texas. The 282-seat premium auditorium, which includes Auro 11.1 by Barco audio platform, features a huge, wall-to-wall screen and plush seating for maximum comfort; and now, Christie's leading-edge immersive line array technology that makes every seat the best seat in the house.
"We applaud Cinemark for adding a critical piece of the cinema experience with the decision to install our Christie Vive Audio solution in their premium XD Auditoriums," said Craig Sholder, vice president, Entertainment Solutions, Christie. "We believe the performance of our line array speaker technology provides a great audio experience to their XD guests, in every seat."
The innovative Christie Vive Audio system unlocks the full potential of the DCI digital cinema audio format and supports leading formats such as Auro 11.1, Dolby® Atmos™, 7.1 and 5.1 surround sound. It is comprised of wall and ceiling surround speakers that use unique ribbon driver technology in a line array design, purpose-built for cinema environments. Christie Vive Audio speakers featured at the Cinemark XD: Extreme Digital Cinema auditorium include the Christie LA3 series for screen channels, wall and ceiling surrounds and the Christie S218 subwoofer.
"We are excited to add the Christie Vive Audio solution to our Cinema XD auditorium," said Damian Wardle, SVP Theatres Technology & Presentation at Cinemark. "Offering the ultimate in immersive cinema sound is part of Cinemark's commitment to bringing the highest quality movie-going experience to all our guests."
Phil Hacker, director of Presentation at Cinemark added, "We continue to seek out and bring the latest technology to our guests and the new generation of immersive sound is the differentiating factor. For Cinemark, Christie Vive Audio continues that objective and allows us to take full advantage of powerful immersive technology such as Auro 11.1, to bring our guests a movie-viewing experience that is also unmatched for its audio clarity."
Recognized for their exceptional timbre matching, enhanced voice intelligibility, and low distortion, the Christie Vive Audio speakers' unique line array design increases the optimal-listening area up to four times that of the standard point source systems. The complete Christie Vive Audio solution includes ceiling surrounds, wall surrounds, screen channel speakers, subwoofers, and Class D amplifiers. The system is ideal for traditional and premium large-format auditoriums, as well as postproduction studios and screening rooms.
For more information on Christie's new audio initiatives, visit http://www.viveaudio.com.
About Cinemark Holdings, Inc.
Cinemark is a leading domestic and international motion picture exhibitor, operating 482 theatres with 5,563 screens in 40 U.S. states, Brazil, Argentina and 10 other Latin American countries as of December 31, 2013. For more information go to http://investors.cinemark.com
About Christie®
Christie Digital Systems USA, Inc. is a global visual technologies company and is a wholly-owned subsidiary of Ushio Inc., Japan. Consistently setting the standards by being the first to market some of the world's most advanced projectors, complete system displays, and entertainment audio solutions, Christie is recognized as one of the most innovative visual technology companies in the world. From retail displays to Hollywood, mission critical command centers to classrooms and training simulators, Christie display solutions and projectors capture the attention of audiences around the world with dynamic and stunning images, accompanied by awe-inspiring sound. Visit http://www.christiedigital.com.
For more information contact:
Dave Paolini
519-749-3127
David.Paolini(at)christiedigital(dot)com
Mario Almonte
Herman & Almonte PR
(212) 616-1190, ext. 267
malmonte(at)herman-almontepr(dot)com
Follow Christie at:
Facebook.com/christiedigital
Twitter.com/christiedigital
"Christie" is a trademark of Christie Digital Systems USA, Inc., registered in the United States of America and certain other countries.
Dolby® Atmos™ is a registered trademark of Dolby Laboratories, Inc.
Auro Technologies is a spin-off of the Galaxy Studios Group and owner of the Auro-3D® Technology Suite.