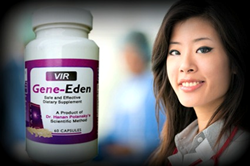 Many women with genital herpes may not realize that their menstrual cycle could cause the latent HSV to reactivate and cause an outbreak. We recommend that every woman speak to her doctor about Gene-Eden-VIR. - Mike Evans, polyDNA
Rochester, NY (PRWEB) April 12, 2014
polyDNA's latest survey found that many women respondents did not know that menstruation (a woman's period) can trigger the reactivation of the latent herpes virus, and a resulting genital herpes outbreak. As Dr. Heather Brannon, MD wrote, "Hormone changes during a woman's menstrual cycle may affect the immune system." (See Dermatology.About.Com, Last updated April 2, 2014) (1). This change in the immune system can make it easier for the latent herpes virus to reactivate and cause an outbreak. polyDNA recommends that women with genital herpes talk to their doctors about Gene-Eden-VIR. This natural antiviral was shown to reduce symptoms associated with HSV-2 in a post-marketing clinical study that followed FDA guidelines.
An article written by Dr. Charlotte Grayson, M.D., and published on Healthcentral.com said that "…several studies have confirmed that the menstrual period is one of the most common triggers of a herpes outbreak." (See Healthcentral.com, from November 13, 2007) (2). Women should be aware that while menstruation may trigger a herpes outbreak, it will not cause a woman to start menstruating (2).
It is important for an infected woman to understand that they can still pass the virus on to her partner even when she has no symptoms, a phase known as a latent infection. There is significant viral shedding throughout the entire menstrual cycle, even when no symptoms are present (the latent phase), according to a study published in 2000. (See the American Journal of Obstetrics and Gynecology) (3).
How can a woman infected with HSV-2 treat her symptoms?
"Two types of antiviral treatments against HSV are available: topical and oral. The treatments include penciclovir, acyclovir, famciclovir, and valaciclovir. However, their effectiveness is limited. For instance, a meta-analysis of five placebo-controlled and two dose comparison studies evaluated the effect of aciclovir, famciclovir or valaciclovir on symptoms. The meta-analysis showed that oral antiviral therapy decreases the duration and the associated pain of an outbreak by merely one day." (See Pharmacology & Pharmacy, from September 2013) (4). There are also natural HSV remedies. Gene-Eden-VIR is a natural antiviral proven to reduce genital herpes symptoms in a post-marketing clinical study that followed FDA guidelines.
"Many women with genital herpes may not realize that their menstrual cycle could cause the latent HSV to reactivate and cause an outbreak. We recommend that every woman speak to her doctor about Gene-Eden-VIR, since it was proven to reduce HSV symptoms in a post-marketing clinical study that followed FDA guidelines." – Mike Evans, polyDNA
In a post marketing clinical study published on August 12, 2013 in the medical journal Pharmacology & Pharmacy in a special edition on Advances in Antiviral Drugs, researchers showed that Gene-Eden-VIR is safe and effective (4). Additionally, up to 70% of those studied reported a decrease in viral symptoms, and users experienced an increase in overall health (4).
Each ingredient of Gene-Eden-VIR was chosen through a scientific approach. Scientists scanned thousands of scientific and medical papers published in various medical and scientific journals around the world to identify the safest, most effective natural ingredients that target the latent herpes virus. (4)
To learn more about Gene-Eden-VIR, visit: http://gene-eden-kill-virus.com/Herpes-Remedy.php. All orders of Gene-Eden-VIR are completely confidential, and no information is shared or sold to any third party. Privacy is assured.
Reference:
(1) Genital Herpes Symptoms in Women. Last updated on April 2, 2014. http://dermatology.about.com/cs/genitalherpes/a/genherp_women.htm
(2) Herpes and Your Menstrual Cycle. Published on November 13, 2007. http://www.healthcentral.com/genital-herpes/c/86/16378/herpes-cycle/
(3) Cervical shedding of herpes simplex virus and cytomegalovirus throughout the menstrual cycle in women infected with human immunodeficiency virus type 1. Published in October, 2000. http://www.sciencedirect.com/science/article/pii/S0002937800830628
(4) Gene-Eden-VIR Is Antiviral: Results of a Post Marketing Clinical Study. Published in September 2013. http://www.scirp.org/journal/PaperInformation.aspx?PaperID=36101#.U0PKT6iSz90
polyDNA is a biotechnology company that develops dietary supplements using the unique scientific method developed by Dr. Hanan Polansky, which is based on Computer Intuition.
In addition to his unique scientific method, Dr. Polansky published the highly acclaimed scientific discovery, called Microcompetition with Foreign DNA. The discovery explains how foreign DNA fragments, and specifically, DNA of latent viruses, cause most major diseases.
polyDNA developed Gene-Eden-VIR, an antiviral natural remedy that helps the immune system kill latent viruses.