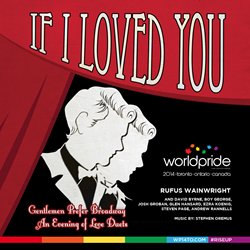 WorldPride 2014 Toronto will showcase a rich range of LGBTQ art and voices from across the world in a once-in-a-lifetime event
Toronto, Ontario (PRWEB) April 08, 2014
WorldPride 2014 Toronto (WP14TO) announces a partnership with the Luminato Festival, which will present the world premiere of IF I LOVED YOU: Gentlemen Prefer Broadway – An Evening Of Love Duets, conceived by composer, singer and raconteur Rufus Wainwright, for one night only at the Sony Centre for the Performing Arts on Saturday, June 14, 2014.
The groundbreaking evening will showcase Wainwright and an international spectrum of pop, classical and musical theatre stars, including David Byrne, Boy George, Ezra Koenig (Vampire Weekend), Josh Groban, counter tenor Brennan Hall (River of Fundament), Glen Hansard (Once), Steven Page and Andrew Rannells (Book of Mormon), in unexpected, entirely enchanting pairs.
"You can never underestimate the power of seeing yourself reflected in art, and how important that is to a feeling of belonging. WorldPride 2014 Toronto will showcase a rich range of LGBTQ art and voices from across the world in a once-in-a-lifetime event," says Chrystal Dean, WorldPride Manager. "We are delighted to partner with a cultural icon like the Luminato Festival to celebrate Toronto's vibrant arts community and bring focus on global LGBTQ struggles and triumphs."
Wainwright teams with Grammy- and Tony-winning musical director Stephen Oremus to redefine dozens of the most beloved gems in the Great American Songbook, all love songs from Broadway musicals. In their original productions, these songs were performed as duets by a man and a woman, or by a man singing about a woman. Wainwright's re-contextualizations, performed exclusively by men and to men, fortify the songs' universality as expressions of love.
"What my husband, Rufus Wainwright, has developed for this evening of celebrating love, is simply mind–boggling and promises to be one of the most unusual, and rewarding, nights of music," enthused Luminato Festival Artistic Director Jorn Weisbrodt. "Who doesn't want to hear these artists sing together? If I Loved You is not about turning something from "straight" to "gay," by singing love duets with only men, but instead, to declare the universality of love, and to celebrate love that comes in every shade."
For more information about If I Loved You, visit http://www.luminatofestival.com/festival/2014/if-i-loved-you
About WorldPride 2014 Toronto
WorldPride 2014 Toronto (WP14TO) is an international celebration taking place from June 20 – 29, 2014 that incorporates activism, education, and the history and culture of global LGBTTIQQ2SA* communities. WorldPride 2014 Toronto is presented by Pride Toronto, producer of Canada's largest annual festival of LGBTTIQQ2SA culture and human rights, under license from InterPride. Pride Toronto is the not-for-profit organization that hosts the city's Pride Festival, an annual event in downtown Toronto during the last week of June and one of the premier arts and cultural festivals in Canada. It is also one of the largest Pride celebrations in the world with an estimated attendance of over one million people. It celebrates the history, courage, diversity and future of Toronto's LGBTTIQQ2SA* communities. See more at:
http://www.worldpridetoronto.com.
*LGBTTIQQ2SA is an abbreviation used to represent a broad array of identities such as, but not limited to, lesbian, gay, bisexual, transsexual, transgender, intersex, queer, questioning, two-spirited, and allies.
About the Luminato Festival
Luminato Festival is Toronto's international multi-arts festival for people open to having art change their outlook on the world. For 10 days each June, Luminato Festival transforms Toronto's theatres, parks and public spaces with hundreds of events celebrating theatre, dance, music, literature, food, visual arts, magic, film, and more.
Luminato Festival is a charitable, not-for-profit, cultural organization whose vision is to commission and present significant local, national, and international programming that reflects Toronto as a crossroads of ideas, cultures and traditions. Now in its 8th year, Luminato Festival has become one of North America's leading arts festivals. The Luminato Festival runs June 6-15, 2014. luminatofestival.com
For more information, please contact:
Trevor Hampden
Communications Manager
WorldPride 2014
647.465.6718
trevor(at)pridetoronto(dot)com
Carrie Sager
Publicist
Flip Publicity
416.533.7710 x 224
carrie(at)flip-publicity(dot)com