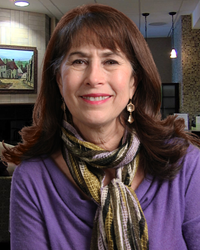 Mt. Kisco, New York (PRWEB) April 09, 2014
Northern Westchester Hospital is proud to announce that Marian Hamilton, founder of The Ken Hamilton Caregivers Center (KHCC) at Northern Westchester Hospital (NWH), will receive the "Quality of Life Award" during the 34th Annual Volunteer Spirit Awards held by the Volunteer Center of the United Way. The ceremony will take place at the Doubletree by Hilton Hotel in Tarrytown, NY, on Thursday, April 24, 2014 from 8:00 a.m. to 10:00 a.m.
The "Quality of Life Award" honors individuals for their work to improve the quality of life of family caregivers, the disabled, homeless, elderly, veterans, as well as those with substance abuse problems or mental disabilities.
Marian Hamilton founded the KHCC after losing her husband, Ken, in 2004 to mesothelioma, a rare form of lung cancer. While she knew that Ken was receiving great care, she felt isolated and overwhelmed navigating the complex healthcare system, all while raising two teenage daughters.
She envisioned an oasis for caregivers within a hospital where they could "escape and recharge," as well as find trained, caring individuals to talk to. From that vision, The Ken Hamilton Caregivers Center at NWH was developed. The center offers free supportive services to family caregivers experiencing new or chronic caregiving needs; monthly caregiver support groups and community resource referrals are also available. These services are available to family caregivers in the hospital and in the broader community as well. The center is staffed by a full-time social worker and a team of 29 dedicated volunteer caregiver coaches. Caregivers are helped to manage the stress and issues that arise out of their caregiving role. The center provides a calming and serene environment which lends itself to soothing respite.
"Marian's dedication to helping family caregivers is incredibly inspiring and I am so proud that she is receiving this recognition from the Volunteer Center of the United Way," said Joel Seligman, President and CEO, Northern Westchester Hospital. "Too often, family caregivers don't get the attention and support that they need in order to best help their loved ones. We can't thank Marian enough for choosing Northern Westchester Hospital as the home of The Ken Hamilton Caregivers Center. The positive feedback we have received from caregivers and patients reinforces how valuable these resources are."
"I am so humbled and grateful to the Volunteer Center of the United Way for this award and accept it on behalf of all who work and volunteer at the center," said Ms. Hamilton. "This is also for all the family caregivers who work tirelessly to take care of their loved ones and often neglect their own needs during their difficult time. It can be extremely stressful to take care of a family member who is sick, and caregivers need respite, too. Creating this oasis was part of my own healing process, and my hope is that more and more hospitals will create caregiver centers like ours at Northern Westchester Hospital."
When the KHCC opened in 2007, it was the first of its kind in the New York metropolitan area. Today, the KHCC has become a model for other hospitals around the country, including Montefiore Medical Center, Bronx, NY; Overlook Hospital, Summit, NJ; Mid-Michigan Health, Midland, MI; White Plains Hospital, White Plains, NY; Westchester Medical Center, Valhalla, NY; Danbury Hospital, Danbury, CT; and most recently the Hospital of the University of Pennsylvania in Philadelphia, PA.
As experts in the family caregiver arena, NWH has developed a comprehensive program to help other healthcare facilities replicate its successful model. The replication curriculum includes information on How to Get Started; Community Partnership; Outreach and Fundraising; Engaging Hospital Professional Staff; Designing a Caregivers Center; Building a Library of Resources; and Best Practice Materials such as a Training Manual for Volunteers, Marketing Materials and Forms. A dedicated Replication Coordinator facilitates interested institutions through the process of replicating centers in their organizations.
Ms. Hamilton selected Northern Westchester Hospital as a location largely because of its Planetree model of patient-centered care which empowers patients to be active participants and engages family and friends in the healing process. Northern Westchester Hospital was among the first hospitals nationwide to be selected as a Planetree Designated Patient-Centered Hospital. Since then, NWH has twice been acknowledged as a Planetree Re-Designated Hospital with Distinction. Northern Westchester Hospital has also received Magnet Designation from the American Nurses Credentialing Center for excellence in nursing, which makes NWH the only Magnet Designated and Planetree Designated with Distinction Hospital in the country.
For information about replicating this Caregiver support program, contact The Ken Hamilton Caregivers Center Replication Coordinator at jgottlieb(at)nwhc(dot)net or 914-242-7920. For information about the 2014 Volunteer Spirit Awards visit: http://www.volunteer-center.org/awards.
About Northern Westchester Hospital
Northern Westchester Hospital (NWH) provides high-quality, surgically-sophisticated, patient-centered care in Westchester County through a unique combination of medical expertise, leading-edge technology, and a commitment to humanity. More than 700 highly-skilled physicians, state-of-the-art technology and professional caregivers are all in place to ensure that you and your family receive treatment in a caring, respectful and nurturing environment.
NWH has established extensive internal quality measurements that surpass the standards defined by the Centers for Medicare & Medicaid Services (CMS) and the Hospital Quality Alliance (HQA). Our New York surgeons uphold highest quality standards, helping to ensure that the treatment you receive at NWH is among the best in Westchester County and the nation. For a complete list of our services, please visit http://www.nwhc.net.