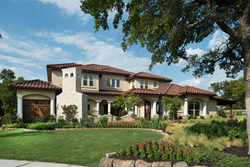 ...home seekers will also be getting an award-winning home builder that is known for impeccable quality and value – and that's priceless!
Horsham, PA (PRWEB) April 08, 2014
Toll Brothers, the nation's leading builder of luxury homes, will offer buyers the chance to create a personalized dream home during its National Sales Event, which takes place from April 12 to April 27. During that time buyers can personalize their new home to meet their lifestyle while taking advantage of very special money-saving incentives.
Anyone who has been fantasizing about a dream home has nothing to lose by visiting their preferred community and learning more. Home buyers can visit any Toll Brothers community between April 12 and 27 and see just how much more they can get for their money during this limited-time opportunity, when they can maximize their new home's potential for much less.
Whether a buyer is seeking a luxury home in an age-restricted community, a stylish home in a dynamic urban setting, a second home in a resort area, or a traditional home in an inviting community – Toll Brothers has something for everyone. Buyers should visit the Toll Brothers.com website to learn about the wide variety of home styles and communities that are available, but they should also visit their preferred community to see the Toll Brothers difference.
If a home is purchased between April 12 and 27 buyers can also lock in still-low interest rates, and get even more for their money during this limited-time event. They'll get a behind-the-scenes look at the quality, value, design, and luxury that is built into each Toll Brothers home. And they'll see that each Toll Brothers community is situated in a convenient, desirable, and sought-after area – so their dream home will be a treasure for years to come.
"Many experts believe that it makes sense to take advantage of the current low interest rates while they last," said Kira Sterling, Chief Marketing Officer. "With the special incentives we're offering now, there is no better time to buy," she added.
To take advantage of the special savings and incentives that will be offered through the National Sales Event, buyers must make a deposit between April 12 and 27. Savings and incentives will vary among communities and will comprise a package of savings created specifically for this event, so buyers should contact their community of interest and speak with a sales representative to learn more.
"Beyond the savings buyers can get now with low interest rates and our own special incentives," said Ms. Sterling. "home seekers will also be getting an award-winning home builder that is known for impeccable quality and value – and that's priceless."
For those home buyers who would like to learn more about financing, representatives from TBI Mortgage Company, a subsidiary of Toll Brothers, will be on hand in many communities to offer free mortgage guidance. TBI Mortgage has an excellent selection of mortgage programs with interest rates – including both fixed rate and adjustable rate mortgages – that are a terrific value.
Toll Brothers has set the standard for integrity, value, timeless design, and exceptionally high quality, and is considered one of the smartest and best-managed companies anywhere. Although Toll Brothers is probably best known for its expansive single-family and estate homes, the luxury builder offers an amazingly wide range of home designs including condominiums, carriage homes, and townhomes; and a vast palette of community types – such as active adult through its Toll Brothers Active Living® brand, resort, and urban through its Toll Brothers City Living® brand.
Toll Brothers, Inc., a Fortune 1000 company, is the nation's leading builder of luxury homes. The Company began business in 1967 and became a public company in 1986. Its common stock is listed on the New York Stock Exchange under the symbol "TOL." The Company serves move-up, empty-nester, active-adult, and second-home buyers and operates nationwide.
Toll Brothers builds luxury single-family detached and attached home communities; master planned luxury residential, resort-style golf communities; and urban low-, mid-, and high-rise communities, principally on land it develops and improves. The Company operates its own architectural, engineering, mortgage, title, land development and land sale, golf course development and management, home security, and landscape subsidiaries. The Company also operates its own lumber distribution, and house component assembly and manufacturing operations.
The Company was recently named Builder of the Year by Professional Builder magazine (http://www.housingzone.com) and becomes the first builder to win this award twice. Toll Brothers is honored to have won two other coveted awards in the home building industry as well: America's Best Builder and the National Housing Quality Award. The Company was also ranked #1 in 2011 and 2010 in Financial Soundness, Long-Term Investment, and Quality of Products/Services in FORTUNE magazine's annual World's Most Admired Companies survey in the home building category*.
Toll Brothers proudly supports the communities in which it builds; among other philanthropic pursuits, the Company sponsors the Toll Brothers - Metropolitan Opera International Radio Network, bringing opera to neighborhoods throughout the world. For more information, visit TollBrothers.com.
This is not an offering where prohibited by law. * From the March 21, 2011 and March 16, 2010 issues of FORTUNE magazine.