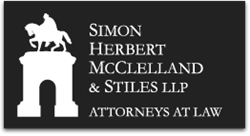 This may be an individual honor, but I think it's a reflection of our entire firm.
Houston, TX (PRWEB) April 10, 2014
Attorneys Kyle C. Herbert and Shane A. McClelland of Houston-based Simon Herbert McClelland & Stiles, LLP have been recognized as Texas "Rising Stars" for 2014. Rising Stars are a subset of the annual "Super Lawyers" list compiled by Thompson Reuters and the publishers of Texas Monthly magazine. While up to 5 percent of the lawyers in a state are designated Super Lawyers, no more than 2.5 percent are designated Rising Stars. Herbert and McClelland are featured in the April 2014 issues of Texas Super Lawyers Magazine and Texas Monthly.
Rising Stars candidates must be either 40 years old or younger or in practice for 10 years or less. Lawyers are selecting using a patented, multi-phase process that includes extensive third party, attorney-led research and evalutation on a dozen key indicators of peer recognition and professional achievement. The objective is to create a diverse, comprehensive list of highly competent and ethical attorneys to serve as a resource for other attorneys and consumers seeking legal counsel.
The 2014 designation is the first for Shane McClelland, a personal injury, litigation and employment lawyer in Houston.
"This is a tremendous honor," said McClelland. "We're so intensely focused on our clients on a daily basis that it's often difficult to divert our attention. Our attorneys aren't unique in that regard, so it means all that much more to know that peers outside of SHMS stopped and took the time to nominate and recognize me. This may be an individual honor, but I think it's a reflection of our entire firm and all the mentors who have influenced me over the years."
Kyle Herbert, a commercial litigation and personal injury attorney in Houston, was also named a Rising Star in 2013.
"This is my second time to be named a Super Lawyers Rising Star, but it's no less special than the first," said Herbert. "It means a lot to me and it has the potential to mean a great deal for the credibility and visibility of our small firm. We pride ourselves on offering the same service and expertise as larger firms and are proud of our acheievements but we know we still have work to do to become a household name. Beyond personal exposure, it's my sincere hope that this designation raises our firm's profile the next time someone is looking for a commercial litigation, employment law, personal injury or trucking attorney in Houston."
Individuals and businesses seeking legal representation in the greater Houston area and throughout Texas should call 713-987-7100 to discuss their case. Simon Herbert McClelland & Stiles offers free case evaluations. Those seeking general information about the firm can visit http://www.shmsfirm.com.
About Simon Herbert McClelland & Stiles, LLP:
Simon Herbert McClelland & Stiles is a litigation law firm with principal offices in Houston, TX. Serving clients throughout the state of Texas, SHMS offers comprehensive personal injury and employment law representation for individuals and represents businesses in commercial lawsuits, contract disputes, and business torts. SHMS offers the proficiencies clients expect from large firms, coupled with a value and level of personalized service not often found at larger firms.