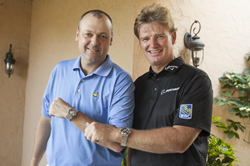 "We are extremely grateful for our longstanding partnership with Razny Jewelers and the relationship they have with us at Breitling, as well as their pledge of support for the Els for Autism Foundation." - Thierry Prissert, Breitling USA President
Chicago, IL (PRWEB) April 09, 2014
In support of April being "Autism Awareness Month," Swiss watchmaker Breitling and Razny Jewelers are donating 20% of proceeds from the sale of any Breitling timepiece with a blue dial at their store in Addison, IL for the entire month of April to the Els for Autism Foundation.
"Breitling has supported Ernie Els and his Els for Autism Foundation for over two years and we are excited to be able to continue in 2014. We are extremely grateful for our longstanding partnership with Razny Jewelers and the relationship they have with us at Breitling, as well as their pledge of support for the Els for Autism Foundation. We hope that this donation will help build awareness around Autism in the U.S. and support the Els for Autism Foundation," said Thierry Prissert, Breitling USA President.
The Els for Autism Foundation was established in 2009 by Ernie and Liezl Els to focus on the issue of autism. The disorder, which affects 1 in 68 children in the U.S. has long been associated with the color blue since Autism is 4.5 times more common among boys (1 in 42) than among girls.* The Els for Autism Foundation was established to help young individuals and families on the autism spectrum and to create the Els Center of Excellence, which will make available the very best practices in education and therapy with a global reach.
In 2013, Breitling produced a special Limited Edition 88-piece Els for Autism watch based on the Breitling Chronomat timepiece, with proceeds from the watches being donated to the Els for Autism Foundation. Additionally, Breitling has been a sponsor and active participant in the Els for Autism Golf Challenge, the largest charity-driven international golf tournament in History for the past two years.
"Autism affects an estimated two million people in the United States," said Els, who started the Els for Autism Foundation after his son was diagnosed with the developmental disability in 2009. "We need to work together to help everyone touched by this disorder, and I'm pleased to say, as a Breitling enthusiast, that Breitling is dedicated to making a difference. This pledge of support for the month of April will certainly help to spread awareness about Autism in the U.S."
Els is one of the most prolific golfers of his generation, winning four Major Championships, two World Golf Championships and a record seven World Matchplay titles. He was inducted into the World Golf Hall of Fame in 2011 and the South African Golf Hall of Fame in 2009.
Razny Jewelers is located at 1501 West Lake Street in Addison, Illinois 60101 and open Monday – Wednesday and Friday from 10:00am – 5:30pm, Thursday from 10:00am – 7:00pm and Saturday from 10:00am – 5:00pm.
*Source: Centers for Disease Control and Prevention Report released March 27, 2014.
ABOUT BREITLING: A specialist of technical watches, Breitling has played a crucial role in the development of the wrist chronograph and is a leader in this complication. Léon Breitling founded the company in 1884 in St. Imier, Switzerland, and chose to devote himself to the exclusive and demanding field of chronographs and timers. Breitling developed the first independent chronograph pushpiece in 1915 and then added the second pushpiece in 1934 to complete the final configuration of the modern chronograph. In 1969, the brand introduced the first self-winding chronograph movement. Today Breitling is the world's only major watch brand to equip all its models with chronometer-certified movements, the ultimate token of precision. Breitling is one of the rare companies to produce its own mechanical chronograph movement, entirely developed and manufactured in its state-of-the-art workshops with its quality guaranteed by an unprecedented five-year warranty. This family business is also one of the last remaining independent Swiss watch brands, celebrating its 130-year anniversary this year in 2014.
ABOUT RAZNY JEWELERS: Razny Jewelers is family owned & operated. The Razny family represents the world's top brands and offers custom creations. Razny Jewelers is always on the cutting edge showcasing the brightest stars in the jewelry and Fine Swiss Timepieces' world. For over 60 years, Razny Jewelers has defined the essence of what a fine jewelry store should be to their clientele. Razny Jewelers is dedicated to the best combination of old-world and modern values. They are one of the only jewelers in the Chicago area that fabricates custom creations truly by hand. With several bench jewelers on staff, custom jewelry remains their specialty. Their careful attention to perfection and unrivaled craftsmanship turns dreams into reality. In addition, Razny Jewelers has Certified WOSTEP Watchmakers on premises to service your timepiece requirements. Razny Jewelers' integrity, honesty and commitment to unparalleled personal service bring their customers back time after time. Razny Jewelers' stores are located in Addison, Highland Park and Hinsdale.