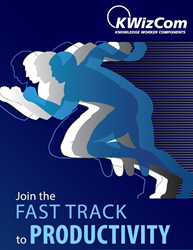 Toronto, ON (PRWEB) April 08, 2014
KWizCom Corporation, a leading provider of SharePoint Forms & Mobile Solution, as well as numerous other top-notch SharePoint web parts and add-ons designed to expand Microsoft SharePoint, announces its full support for SharePoint 2013 compatibility mode. Customers who wanted to upgrade to SharePoint 2013 by using the deferred site collection upgrade approach were facing a big challenge: in this hybrid structure where they have some SP2013 sites and some SP2010 compatibility mode sites, neither the SharePoint add-ons nor the developed customizations work.
After validating its solution with Microsoft online, KWizCom has released a new set of compatibility mode installation files, enabling customers to upgrade their SharePoint farms while continuing the support for all KWizCom products. Additionally, KWizCom has published the methodology and the FREE tool to assist other SharePoint clients with a smooth and unperturbed upgrade to SharePoint 2013.
KWizCom's VP R&D Shai Petel, covers this topic in detail in his blog-post "SharePoint 2010 Deferred site collection upgrade with custom SharePoint solutions" and provides a thorough instruction and explanation on how to painlessly and flawlessly complete this kind of upgrade. The blog post also includes a link to a complimentary tool that was specifically designed to facilitate the upgrade to SharePoint 2013, using the deferred site collection approach.
The company invites you to visit KWizCom's SharePoint Experts' Blog from time to time for useful SharePoint-related information and helpful tips.
About KWizCom Corporation
Since 2005, KWizCom has provided innovative solutions and services to make SharePoint even better for over 5,000 companies worldwide. KWizCom's solutions and services expand Microsoft SharePoint out-of-the-box capabilities, streamline workflow, maximize efficiency and enhance over-all productivity for hundreds of thousands of users. KWizCom, a Gold Certified Microsoft Partner, is headquartered in Toronto, Canada. Please visit www(dot)kwizcom(dot)com to find out more about KWizCom's clients, people, partners and solutions.
Contact a KWizCom Account Specialist at +1-905-370-0333/+1-855-KWIZCOM or info (at) kwizcom (dot) com.