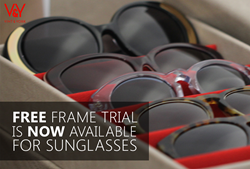 "Vintage inspired glasses. Distinctly Vint and York'
(PRWEB) April 10, 2014
Sunglasses Added To Vint and York's (vintandyork.com) Popular Online Frame Trial Program
Vint and York has extended their online Frame Trial program to include newly released vintage inspired sunglass collection.
Sunglasses will be available for Frame Trial starting Monday April 7th, 2014.
V&Y's Free Frame Trial allows the customer to select five different styles of frames on the website and try on glasses at home. Mixing and matching sunglasses with eyeglass frames during the trial is a great idea to provide the customer with a complete styling experience.
V&Y has offered the Frame Trial option to customers since the company launched in 2013, but originally only for their eyeglass frames. Sunglasses were added to V&Y's product line in 2014, and have caught the attention of many stylish consumers. All styles of frames, from every collection, will now be offered in the Frame Trial program.
Vint and York is a luxurious, but affordable eyeglass and sunglass online retailer. The quality of Vint and York's frames is comparable to the high-end brand name frames that are seen across the fashion industry. The brand name is a derivative of their product's inspiration. Each frame is designed in New York and inspired by the nostalgic vintage era of the 1920's, a time recognized for when artistic exploration was highly celebrated.