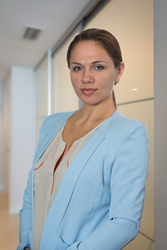 "The determination, expertise and innovative management Natalia brings to i-payout™ make her an asset to our company and a deserving recipient of this award," said Eddie Gonzalez, President of i-payout™
Hallandale Beach, FL (PRWEB) April 08, 2014
Leading digital global payment provider i-payout™ announced today that its CFO Natalia Yenatska has been recognized as one of the 2014 Supply Chain Provider "Pros to Know" by Supply & Demand Chain Executive Magazine. The awards recognize supply chain executives who are successfully preparing their companies' supply chain clients, or the supply chain community at large, for the challenges of today's business climate.
Ms. Yenatska works closely with her clients to establish processes that leverage emerging digital technologies, enabling efficient and safe transactions. Leading financial operations and project management, she oversees all aspects of business operations and ensures that staff is well equipped to meet the diverse needs of clients. With years of industry experience, Ms. Natalia Yenatska is an industry expert, innovator and promoter of emerging digital payment technologies that drive supply chain efficiencies.
"The determination, expertise and innovative management Natalia brings to i-payout™ make her an asset to our company and a deserving recipient of this award," said Eddie Gonzalez, President of i-payout™.
Chosen from almost 400 applicants, Yenatska was recognized among other influencers and thought leaders in the industry. She and other award winners were announced online at http://www.SDCExec.com and are listed in the March 2014 issue of Supply & Demand Chain Executive.
###
About i-payout™
Established in 2007, i-payout™ is a leading global player in the digital payments industry. The company's platform and services make it possible for organizations and their members to make and receive payments anywhere in the world at any time, via multiple options, with ease and convenience. i-payout™ has focused expertise and capabilities to address the specific needs of business verticals, including Multi-Level Marketing, Direct Selling Associations, unions, and the legal industry.
About Supply & Demand Chain Executive
Supply & Demand Chain Executive is the executive's user manual for successful supply and demand chain transformation, utilizing hard-hitting analysis, viewpoints and unbiased case studies to steer executives and supply management professionals through the complicated, yet critical, world of supply and demand chain enablement to gain competitive advantage. Visit us on the Web at http://www.SDCExec.com.