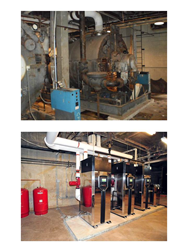 Laclede Gas Rebate netted North County Christian School over $10,000.
St. Louis, MO (PRWEB) April 08, 2014
If building owners could save thousands of dollars by upgrading their existing power plants, would they do it? Air Masters' significant modifications to the North County Christian School's hot water plant have led to a highly-efficient, water-saving, and economical plumbing system.
Recently, Air Masters facilitated the replacement of North County Christian School's antiquated 1960's boilers. Based on performance and past consumption, Air Masters found the preexisting, very large scotch marine style boilers, to be inefficient. After running numerous energy models, Air Masters determined the proper system set up for the North County Christian School's hot water plant.
Air Masters' new system at North County Christian Schools is approximately 1/6 the physical size of the old plant. Once completed, a Laclede Gas Rebate netted North County Christian School over $10,000.
Three high efficiency condensing class Camus boilers were installed and programmed by Air Masters' knowledgeable and experienced staff. The controls lead lag to determine the output of each boiler based on system demand. This management is critical for effectiveness and efficiency.
The work did not end with installation. In order to further improve the operation of the plant, Air Masters converted the system from a primary pumping system to a primary secondary pumping system. The new system allows water to be pumped based on demand rather than continually. Clearly, this is more cost-effective as primary secondary pumps use less energy at partial load. The existing flue was utilized as a chase for the new PVC flues, and the school's comfort heating hot water boiler was replaced with a similar high efficiency condensing boiler.
Air Masters has helped North County Christian School as well as number of other businesses reduce expenses, become eco-friendly, and create an improved workplace environment.
For more information about our money saving services, visit http://www.airmasters.com or call Lisa Abney of Air Masters at 636.680.2222.
About Air Masters:
Air Masters is a full service team of engineers, project managers, highly skilled workers, and support staff who bring experience, knowledge, and talents to commercial projects. Air Masters' services are a family of companies that will serve your project needs.
Whole building commissioning is their mentality and includes building automation control systems, plumbing services, fire protection installations, and a wide range of HVAC services. Air Masters takes your project from inception to completion and beyond with pride and sincere passion for customer satisfaction.
Media Contact:
Lisa Abney, Commercial Account Representative
lisaa(at)airmasters(dot)com
Air Masters
636.680.2100
http://www.airmasters.com