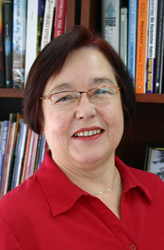 ...she has been a driving force in establishing Scootaround as the preferred choice for our service in the airline industry
Winnipeg, Manitoba (PRWEB) April 10, 2014
Scootaround Inc. is pleased to announce that Ms. Cheryl Campbell has been appointed Vice President, Airline Services. In her capacity, Ms. Campbell is responsible for driving the growth of the company's divisional business model, executing growth strategies towards corporate goals and objectives, and developing new airline business for Scootaround.
Mr. Kerry Renaud, President and Chief Operating Officer for Scootaround said "I am extremely pleased to have Cheryl adopt this new role in our company. She was instrumental in building the Airline Service Department, and over the past decade she has been a driving force in establishing Scootaround as the preferred choice for our service in the airline industry".
Ms. Campbell began work with Scootaround Inc. in 2002, first as a consultant then officially joined the ranks as Operations Manager in January 2003, serving in that capacity for 6 years. In 2009, the Airlines Services division launched and Cheryl assumed the overall management of the division. Prior to joining Scootaround, she spent over 25 years in a variety of industries, from commercial banking, to accounting and finance, to equipment leasing and has served on several management teams. Her diverse skill set and experience are key assets in Scootaround's commitment to development of new business relationships.
Scootaround is the only nationwide solution for claims involving all types personal transport vehicles, including scooters, powerchairs, and wheelchairs. Scootaround's unique business model is responsible for satisfying the immediate mobility needs of thousands of passengers each year while at the same time providing significant cost savings to airlines and carriers.
-30-
About Scootaround Inc.: Since 1997, Scootaround Inc. has been North America's only nationwide mobility equipment company, providing personal transport rentals and sales to all customer types from individual travelers through to Fortune 500 companies. Scootaround is a proud sponsor of the Society for Accessible Travel & Hospitality (SATH) and an accredited member of both the ARA and CRA Rental Associations.
Scootaround special needs services include rentals for motorized scooter, wheelchair, ECV, and powerchair equipment types. Disability services are available for the elderly and those with mobility issues for convention, vacation, business, cruise and convention travel. For more information, please visit http://www.scootaround.com.