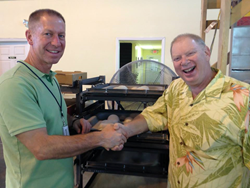 It is the only orthotic that is calibrated to match your weight foot flexibility and activity level
Indiana (PRWEB) April 10, 2014
When the inventor and CEO of Sole Supports, Dr. Ed Glaser, walks around his facility he calls each employee (more than 70) by name and asks them, "What do we do here?" With genuine enthusiasm, they reply:
"We make people better."
As a podiatrist, Glaser was unhappy with the usual treatments of drugs and surgery and set out to create a truly custom orthotic. In doing so, he has seen dramatic results with his product including a change in foot posture as well as knee, hip and back posture. "It is the only orthotic that is calibrated to match your weight foot flexibility and activity level," Glaser said. "And I have seen them reduce deformities people have had for years."
Glaser lectures to foot, ankle and podiatry groups around the world and has fitted professional athletic teams to his product as well. It may seem odd that the product could benefit athletes, due to the design Glaser states the orthotic gives athletes a mechanical advantage. His drug and surgery-free approach, as well as the similar approach to helping people get better, is why AlignLife Chiropractic teamed up with Sole Supports.
"After he came to lecture to our clinics, I was impressed with his product and just the overall character of the man," Dr. Mark Heal said. Heal is the owner of three AlignLife Clinics in Northern Indiana. "We cast all of our staff so that we could truly get first-hand knowledge of the product. All of us noticed various differences in how the orthotics helped us. That's when our enthusiasm sent us over the top and we knew we had to offer this service to people. Not offering it was we felt was a disservice."
The orthotics are all custom, no part of them is pre-made meaning there are not any generic patterns or molds. Because of this customization, Glaser knew he had to find the right health care providers to provide them. "And we need them to be caring intelligent clinicians that share the mission," he said. AlignLife completed a certification process to learn how to cast people as well as do a "test" casting to see if and how the custom orthotics could benefit the patient.
"We often talk about how people don't realize that their nervous system controls everything and if their spine was on their face, they may take better care of it," Heal said. "Feet are probably the next most neglected bones and structures in our body. And they hold us up."
Sole Supports was founded in 1996 and today their new technology is utilized around the world in various health care offices. According to Heal, it can be a part of the solution to a myriad of health issues ranging from plantar fasciitis and bunions to enhanced sports performance. "All feet are different so the orthotic needs to match the foot and Sole Supports painstakingly does that," he said. "With all of our training and experience as well as going to the factory and getting to tour the facility to see how they were made, we feel we definitely have an alternative to drugs and surgery with this product."
To learn more on how orthotics can help you in conjunction with chiropractic and other natural health options contact Dr. Mark Heal or any of the doctors at one of his three AlignLife clinics at lafayetteelston(at)alignlife(dot)com rochester(at)alignlife(dot)com or winamac(at)alignlife(dot)com. Learn more at http://alignlife.com.