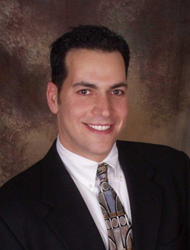 Fastbraces is an appropriate treatment option for most individuals who desire an alternative to conventional metal braces, including children, teenagers and adults.
Morganville, New Jersey (PRWEB) April 11, 2014
Renowned for his customized cosmetic dentistry care and innovative cosmetic restoration treatments, New Jersey cosmetic dentist Dr. Richard Champagne now offers the Fastbraces system as an effective alternative to Invisalign and other orthodontic techniques.
What Is Fastbraces?
The Fastbraces system is exactly what it sounds like: a quick and effective way to straighten misaligned or crooked teeth. Fastbraces can also correct any unsightly gaps between the teeth. Aside from simply making smiles look nicer, Fastbraces makes smiles healthier. Straight teeth are less susceptible to gum disease and bone loss than teeth that are crowded, overlapped and crooked. The total treatment time can take as few as three months but may take up to a year for patients with more complex cases.
In contrast to traditional braces, which move the crown of the tooth first before moving the root of the tooth into the correct alignment, Fastbraces gently and simultaneously moves both the crown and root of the tooth, using a revolutionary triangle-shaped bracket and wire.
Fastbraces is an appropriate treatment option for most individuals who desire an alternative to conventional metal braces, including children, teenagers and adults.
Why Choose Fastbraces Instead of Other Orthodontic Options
In addition to its quick treatment time, the Fastbraces system is much more affordable than traditional braces. Also, ceramic brackets can be used for those who desire a more discreet way to straighten their teeth. Finally, post-treatment maintenance is easy with Fastbraces: After the treatment is concluded, patients only need to wear their retainers for 15 minutes each day, meaning they can pop them in before their shower and take them out when they are finished and still maintain beautifully straight and properly aligned teeth, without any gaps.
More About Richard Champagne, DMD, MAGD
Richard Champagne, DMD, MAGD, earned his Doctor of Dental Medicine degree at Fairleigh Dickinson University in New Jersey prior to training under the tutelage of a number of internationally renowned cosmetic dentistry experts. Dr. Champagne uses this acquired knowledge every day in his private practice, Champagne Smiles, providing a range of cosmetic dentistry services, including teeth whitening, porcelain veneers, dental bonding, Invisalign and many more. Thanks to his commitment to continuing education, he is always at the forefront of advancements in his field. In addition, he imparts this wisdom on future dentists in his position as a teacher at Monmouth Medical Center and as a mentor for the Pankey Institute for Advanced Dental Education. Dr. Champagne has authored several articles that have been published in peer-reviewed dental journals and is a frequent guest lecturer for dental associations across the nation.
Dr. Champagne's extensive expertise has been recognized by the Academy of General Dentistry , a prestigious organization that granted the New Jersey cosmetic dentist "Master" status; less than 1 percent of dentists earn this honor. The Consumers' Research Council of America has also recognized Dr. Champagne's achievements in cosmetic dentistry by naming him one of "America's Top Dentists," and Living Well magazine selected Dr. Champagne as a NJ Top Dentist. To learn more about Dr. Champagne, please visit http://www.champagnesmiles.com.