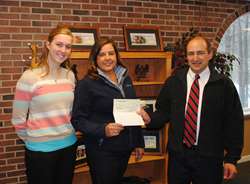 Hersey, MI (PRWEB) April 10, 2014
Ronald McDonald House Charities of Outstate Michigan has awarded funds to Eagle Village since 2005.
Dollars from donation boxes placed at McDonald's Restaurants across Michigan return to communities not only in the form of grants, but also scholarships to high school graduating seniors and to the Ronald McDonald Houses in Lansing and Grand Rapids.
Founded in 1990, RMHC of Outstate Michigan has awarded grants totaling more than $7 million to over 350 Michigan organizations. RMHC awards grants to local charities and programs that directly improve the health and well-being of children.
According to Lesa A. Dion, RMHC of Outstate Michigan executive director, Eagle Village's grant request of $19,948 for sensory therapy room equipment was one of 35 grants approved since the beginning of 2013, totaling more than $640,000.
Dion shared, "Eagle Village strives to improve the lives of children each day through their programs for troubled teens and fulfills the mission of RMHC of Outstate Michigan by improving the health and well-being of children. RMHC funds will be used to purchase equipment for the sensory therapy room that will allow youth and their counselors to engage in multi-sensory therapy activities."
Since 1968, Eagle Village has helped to improve the lives of children and families across Michigan through several programs including: residential treatment; foster care; adoption; intervention and camp programs; assessments; an on-site, accredited school; trauma care, extensive work with families and experiential learning programs.
Ame Edstrom, Director of Residential Services shared, "Sensory therapy with teens who have experienced trauma is one of the most effective ways of helping them work through the past and heal. Eagle Village has provided this type of therapy in the houses or counseling offices but it will be a tremendous benefit having dedicated equipment for our new Activity Therapy Center, scheduled to open this quarter."
Eagle Village is a non-profit family treatment center providing services for all counties in Michigan. If you know of a family in crisis that may benefit from these programs contact Eagle Village at 231-832-2234. http://www.eaglevillage.org
For more information about Ronald McDonald House Charities of Outstate Michigan, see their website at http://www.rmhcoutstatemi.org.