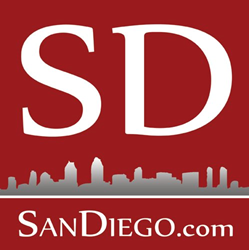 The summer tourists aren't yet here and there are so many great things to do so take advantage of the quieter beaches.
San Diego, CA (PRWEB) April 09, 2014
The beautiful City of San Diego offers many dynamic attractions and events ready to satisfy any and every taste throughout the year. Today, SanDiego.com announced its list of the top 5 things to do in San Diego this April 2014. Whether in the mood to attend a live show or do some relaxing on the sand, the options are truly endless.
"Spring is one of the best times of the year in San Diego," says Chris Parks, an editor of SanDiego.com. "The summer tourists aren't yet here and there are so many great things to do so take advantage of the quieter beaches."
1.) San Diego Padres: The San Diego Padres are the city's iconic professional baseball team and are fortunate to play in one of the most gorgeous venues in all of professional sports. Built almost ten years ago, Petco Park is a very modern and upscale stadium with an open feel and fun activities for the whole family. Catch one of the Padres' season opener games this month and get the season started! Buy Padres tickets at http://www.sandiego.com/san-diego-padres-tickets.
2.) Gaslamp Nightlife: The selection of nightclubs in downtown San Diego continues to grow and evolve every year. April is a particularly fun month downtown because we start getting those warm nights back and a ton of people make it a point to go out during their spring break from school. With unique options to choose from such as Fluxx, Stingaree and Bassmnt, downtown San Diego's nightlife has a crowd and a flavor for everyone.
3.) Pristine Beaches: San Diegans are fortunate enough to have beautiful weather all year long and it only gets better during the spring and summer months, and April marks the beginning of the best beach days. The time change arrives, the weather starts warming up, and the community starts flocking to the sand in droves. Surf lessons are also offered at beaches stretching from La Jolla down to Imperial Beach. Anyone interested in giving surfing a try should give one of our many surf schools a call and learn today!
4.) Dining! Dining! Dining!: With so many things to do and so much time spent outdoors in our lovely city, people tend to get pretty hungry and it's important to know where to get some quality food. San Diego is very prideful of its robust dining selection, and with good reason. The city even hosts a semi-annual public food event showcasing menus from some of the city's most popular destinations. Those in the mood for some exceptional seafood with a nice view should check out the Crab Catcher and George's on the Cove, both located on the gorgeous cliffs of La Jolla. If craving a quality steak or ribeye for the evening, downtown hot spots Ruth's Chris and SearSucker both offer top quality cuts as part of a savory dinner out. SearSucker was founded by Brian Malarkey, of Bravo! Top Chef fame, and has become a staple in downtown San Diego's dining selection.
5.) Snorkeling/Kayaking/Biking: With San Diego offering so much lush coastline, some of the essential activities for travelers to experience are the snorkeling, biking and kayaking tours offered in La Jolla. Those wanting some outdoor fun in the sun can rent equipment with ease from La Jolla Kayak today. With rental deals starting at only $30.00/day, La Jolla Kayak provides a very fun and affordable outdoor experience for anyone!
About SanDiego.com:
SanDiego.com is one of San Diego's oldest and busiest travel and tourism websites, known as the local authority for all things San Diego. The author of this article, Anthony Murphy, is a native San Diegan who truly believes that there is no place more fun and exciting than beautiful San Diego!