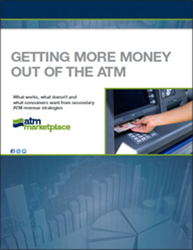 For many deployers, the only way to grow will be to explore new revenue strategies.
Louisville, KY (PRWEB) April 09, 2014
ATM deployers are under more pressure than ever to generate new revenue streams. Investments are high to upgrade to Windows 7, migrate to EMV and comply with the new requirements of the Payment Card Industry Data Security Standard. What's more, revenues from interchange are declining. For example, most interchange fees paid to U.S. ATM operators range from 20 to 30 cents — about half of what they were five years ago. The subject of U.S. ATM saturation is well discussed.
That's why ATM Marketplace has released "Getting More Money out of the ATM: What works, what doesn't and what consumers want from secondary ATM revenue strategies." The 60-page, deeply researched report examines multiple strategies that financial institutions and independent ATM deployers can employ to drive revenue growth by offering non-cash products and services.
The report examines the potential effectiveness of:

Prepaid cards
Lottery tickets
Postage stamps
Concert tickets
Prepaid cellphone airtime
Digital content, such as iTunes credits
Toll payments
Mobile/ATM integration
Dynamic currency conversion
P2P fund transfers
Internet prepaid interaction
Especially valuable to FIs and IADs will be two included surveys — one that polled their peers in the industry and another that asked more than 1,000 consumers about non-cash products they had purchased at an ATM, as well as those they would buy if offered, and those they wouldn't.
More than 60 charts and graphs help ATM deployers better understand the state of the industry and its potential when it comes to second-tier revenue strategies.
The report was authored by veteran financial journalist Robin Arnfield and edited by Suzanne Cluckey, editor of ATM Marketplace.
"Every day I come across stories, either published or told to me personally, about how tough the ATM industry can be," Cluckey said. "Yes, there is global growth, but in the U.S., the industry presents unique challenges. For many deployers, the only way to grow will be to explore new revenue strategies."
More information about the report is available here.
About ATMmarketplace.com
Since 1997, ATM Marketplace has reported on the important news, events, trends and people in the ATM industry. We reach a global audience of professionals from all sectors of the ATM market, including financial institutions, vendors, retailers and IADs. The site features a directory of product and service providers as well as slideshows, videos and research.
About Networld Media Group
Founded in 2000, Networld Media Group is a leading business-to-business (B2B) media communications company specializing in digital media, associations and events in the mobile, self-service, digital signage, retail, food service and financial services industries. Online properties include ATMmarketplace.com, DigitalSignageToday.com, FastCasual.com, KioskMarketplace.com, MobilePaymentsToday.com, PizzaMarketplace.com, QSRweb.com, RetailCustomerExperience.com, SelfServiceWorld.com and ChurchCentral.com. The company produces executive summits in the fast casual, retail, ATM and mobile payments industries. Its custom media division develops premium content and marketing services for associations such as the ATM Industry Association.
###