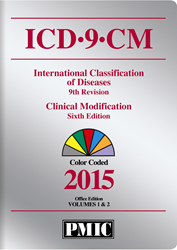 Since 1989, PMIC has set the bar for innovative coding and compliance solutions. The introduction of ICD-9-CM 2015 is an example of this innovation, and competitors are likely to follow our lead.
Los Angeles, CA (PRWEB) April 09, 2014
On October 1, 2014, ICD-9-CM, the current HIPAA mandated diagnostic coding system, was scheduled to be replaced by ICD-10, a completely revised and far more extensive coding system. As recently as February 27, 2014, Marilyn Tavenner, Administrator of the Centers for Medicare and Medicaid Services assured the industry there would be no further delays in the implementation of ICD-10. But on March 31, the Senate voted to approve H.R. 4302, the Protecting Access to Medicare Act of 2014, which was designed to create a temporary "fix" to the Medicare sustainable growth rate (SGR). Inserted into the bill was an additional section stating the Department of Health and Human Services (HHS) cannot adopt the ICD–10 code set as the standard until at least October 1, 2015.
Virtually no one in the healthcare industry, including HHS, knew this section was included in the bill, and the announcement of its passage created mixed reactions. Those who who had spent considerable time and money to be prepared were angry about the delay. Those who are not prepared were for the most part relieved that they now have at least another year to do so. The delay is estimated to create an additional $1 billion to $6 billion in costs to the industry.
Many physicians and other providers have not updated ICD-9-CM books and data sets in the past three years due to the planned implementation of ICD-10. But there have been significant changes to ICD-9-CM during those years and it is important that healthcare providers have a current edition of ICD-9-CM to protect reimbursement, reduce audit liability, and comply with HIPAA regulations.
PMIC is releasing ICD-9-CM 2015 to help its customers maximize reimbursement during the new transition period. The PMIC ICD-9-CM 2015 releases include:

ICD-9-CM 2015 Physician Edition, Volumes 1 & 2 for physicians and other healthcare providers
ICD-9-CM 2015 Hospital/Payer Edition, Volumes 1, 2 & 3 for hospitals and payers
ICD-9-CM 2015 Home Health Edition, Volumes 1, 2 & 3 for home health agencies
The ICD-9-CM 2015 products are available in several formats including:
Print Books
Electronic books (e-Books) in PDF format
Data Sets
PMIC is including the ICD-9-CM 2015 in all of its specially priced coding book sets including:
CPT 2015, ICD-9-CM 2015, ICD-10-CM 2015 and HCPCS 2015. Customers may purchase coding packages or individual coding products dependent on their needs.
About Practice Management Information Corporation (PMIC)
PMIC was founded in 1986 and is the nation's leading independent publisher and value-added reseller of medical coding and compliance resources with a reputation for delivering choice, quality, service and value. Customers trust PMIC to provide complete, accurate and unbiased information.