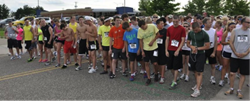 Without a doubt the most well worth while 5k of the year. Great fun, unique theme, excellent prizes - Kristy
Somerset, WI (PRWEB) April 09, 2014
OSI Physical Therapy would like to announce registration for the 5th annual Pea Soup Days 5k race and ½ Mile Kids Run is now open to the general public. This race will be held on Thursday, June 5th. Proceeds from the 2014 Pea Soup Days 5k will be donated to the Somerset Basketball Association.
"It's our 5th annual Pea Soup Days 5k and we couldn't be more excited. We have been busy planning, adding, and hoping to make this our best event yet! Take the 5k challenge, enjoy age group awards, great food, beverage and music afterward. We are keeping the kids run on the agenda this year since it was hugely successful. Come out for your own workout, bring along the kids to take on their own little challenge after your race. We even have onsite childcare available if you need it to run! Spread the word, we need your help getting all your friends to attend. The kids of Somerset Basketball Association, those working your water stop that day and recipients of our fundraising, will really thank you!! It's a great event, be sure to put it on your calendar as a MUST do!!" Heather Larson, Director of Operations and Race Organizer
Race Details Include:
Where: OSI / Training Room Somerset, 709 Rivard St. Somerset, WI 54025
When: Thursday June 5th, 2014
Time: 6:00 p.m.
Pre-registration: starts at 4:00 p.m.
Price: Pre-registration = $22.00 (Race day = $28.00)
Students: = $10.00 ***Race shirt not included
Hashtag: #PeaSoup5k
Kids ½ Mile Run: (kids under 12 run free)
Kids Start Time: Immediately follows 5k
Additional Info:

Overall Male & Female Prize and 1st, 2nd, & 3rd place awards given by age group and to both male/female
All participants receive a free customized Training Room pea soup mug
MUST register by May 16th to receive a Pea Soup 5k t-shirt – No exceptions
Stay after and enjoy great food, beverages, music, and the company of others
Interactive booths from OSI Physical Therapy sport medicine partners St Croix Orthopaedics and Westfield Hospital.
To register for this event, you can go to http://bit.ly/PeaSoup2014.
To get sponsorship information or any additional race information, contact Heather Larson, Director of Operations at the Training Room at hlarson(at)osipt(dot)com.
Download the Race Registration form at http://bit.ly/PeaSoup2014 | @OSItherapy | On Facebook
SOURCE: OSI Physical Therapy Somerset Team. For further information about: Heather Larson, Telephone number: 715-247-5770 or email: hlarson(at)osipt(dot)com.