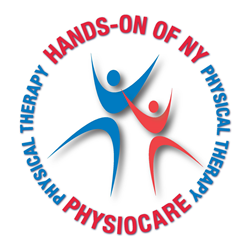 Hands-On Physical Therapy's mission is to furnish their clients with reliable Physical Therapy services, improve their health toward independence and help them change their lives in a more positive direction.
Astoria, NY (PRWEB) April 10, 2014
Dr. Evan Schwartz is an orthopedic surgeon practicing out of Lenox Hill Hospital with his main practice located in Astoria, Queens. He is affiliated with the North Shore-LIJ Health System. In an interview conducted by Hands-On Physical Therapy of NY, Dr. Schwartz talks about the importance of patient care and physical therapy in his practice.
Dr. Schwartz says that the demands of his patients have gotten much higher due to baby boomers getting older, but still wanting to be very active. They still want to play sports, even aggressive sports such as hockey and basketball, so it has become more challenging to keep people more active than ever before.
People's lifestyles have also changed in recent years. In the past, orthopedic patients just wanted to feel no pain, but many people nowadays don't just want to go for a walk; they want to run or play tennis. These aspects put a lot more stress on the orthopedist/patient relationship. The majority are no longer happy to just sit around the house anymore. They want to be more active than ever.
Dr. Schwartz explains that physical therapy is one of the main modalities he uses in treatment. While he is an orthopedic surgeon, he only operates on one out of every 20 patients. Those that he does not operate on, he is able to treat through medications, injections or physical therapy, with physical therapy being his main source of alleviating his patients' pain and restoring them to normal function.
Dr. Schwartz continues by saying that one-on-one manual therapy is crucial to his patients' recoveries, so that each person gets the individualized treatment they need. He says that it is important to not just put the patient on a machine and leave him or her alone. People expect more from physical therapists these days.
The doctor emphasizes that his patients have been very happy with Hands-On Physical Therapy of NY and PhysioCare Physical Therapy. One of the changes that he has seen with insurance companies these days is that physical therapy clinics have had their reimbursements cut back extensively, and they have to see more patients with the same number of therapists to make up for it. This can cause the patient to not get the individualized service they need. Dr. Schwartz feels that Hands-On Physical Therapy of NY has made a concerted effort to provide his patients with the individualized care and outstanding service his patients need and deserve.
Dr. Schwartz's final advice is that there is a lot of information floating around on the Internet. People can find some good information there, but also a lot of bad information. What people need to know is while it's good to look up information on their own, before their problems get too far, they may need to seek out an orthopedic professional to receive an expert opinion and course of action.